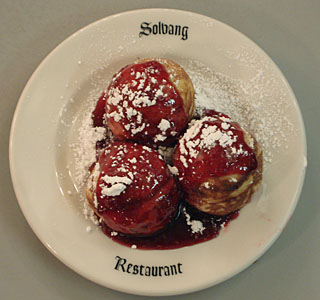 Prep: –
Cook Time: –
Total: –
Serving: –
Recipe for aebelskivers, a traditional Danish doughnut like treat.
Ingredients
2 cups flour
2 cups buttermilk
3 eggs
1 teaspoon sugar
1/2 teaspoon salt
1 tablespoon baking powder
1 teaspoon baking soda
1/4 teaspoon cardamom
oil for pan
Directions
Beat yolks of eggs with buttermilk.
Mix together sugar, salt, flour, baking powder, baking soda, and cardamom.
Beat egg whites until stiff.
Mix egg yolk-buttermilk mixture with dry ingredients. Add egg whites, carefully folding them in so that they don't break down.
Heat aebleskiver pan over medium-high heat. Put 1 teaspoon salad oil in each hole and fill completely with batter. Let cook until slightly crusty on bottom. Turn slightly with a knitting needle or skewer. Continue cooking, turning the ball to keep it from burning, until the knitting needle comes out clean when stuck in the center.
Serve aebleskiver hot with powdered sugar, jam, and jelly.