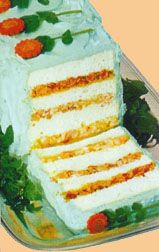 Recipe created by FabFood on

Jul 23, 2007
View more recipes by FabFood.
Prep: –
Cook Time: –
Total: –
Serving: –
Recipe for 1950s Party Sandwich Loaf. Your guests will be so impressed with this dessert looking sandwich creation.
Ingredients
1 loaf unsliced sandwich bread
softened butter
Shrimp Salad Filling:
1 hard boiled egg, chopped
1 1/3 cups cooked shrimp, finely chopped
1/4 cup celery, finely chopped
2 tablespoons lemon juice
1/4 teaspoon salt
dash of pepper
1/4 cup mayonnaise
Cheese-Pecan Filling:
3 ounces cream cheese, softened
1 cup toasted pecans, finely chopped
1 can (8 3/4 ounces) crushed pineapple, well drained
Chicken Bacon Filling:
8 slices bacon, crisply fried and crumbled
1 cup cooked chicken, finely chopped
1/4 cup mayonnaise
1 tablespoon pimiento, finely chopped
1/4 teaspoon salt
1/8 teaspoon pepper
Cream Cheese Frosting:
2 packages (8 ounces each) cream cheese, softened 1/2 cup light cream
2-3 drops green food coloring, or enough to tint a delicate green
Directions
Prepare fillings by mixing together all ingredients for each filling and for cream cheese frosting.
Trim the crusts from 1 loaf of unsliced sandwich bread. Cut loaf horizontally into 4 equal slices. Spread one sides of 3 slices with softened butter.
Place 1 slice, buttered side up, on a serving plate. Spread evenly with shrimp salad filling. Top with the second bread slice and spread evenly with Cheese-Pecan filling. Top with third slice and spread evenly with Chicken Bacon filling. Top with remaining bread slice. Frost top and sides with cream cheese frosting.
Chill until frosting has set - about 30 minutes. Wrap loaf with a damp cloth and chill 2 1/2 hours or overnight.
Filed Under:
Spreads, Meat, Poultry, Seafood, Sandwiches and Wraps, Make Ahead, Kid Friendly, New Year's, Easter, Mother's Day, Christmas, Finger Foods