Cooking Club
FabulousFoods.com Cooking Club: Have Fun, Cook, Eat.

Greetings Fabulous Foodies!
Part of our mission statement here at FabulousFoods.com has been to get readers to put put down the mouse, go into the kitchen and cook!

This online Cooking Club is designed to inspire you to do just that. At the same time you'll discover delicious new recipes and ways of preparing favorite ingredients, share recipe ideas, notes and variations with new online friends interested in cooking, impress offline friends and family with your cooking creations, and maybe even win some fun prizes.

Join in and anytime you like, membership is free, and it's easy to opt in or out antime you like. And while we want you to start cooking, you can even keep up with the cooking club wthout actually participating if you like – we don't mind lurkers and you'll still discover some great recipes and cooking tips.

Each month we will post a new cooking challenge. The Cooking Club challenges will always be broad enough to have something for everyone, regardless of your cooking ability level, dietary requirements, or personal tastes. You will have about a month to cook something pertaining to the challenge. Partcipate by cooking as many recipes as you like. Each time you participate you get another chance at that month's special prize package.

Why Join?

Discover new recipes.
Expand your culinary repertoire by trying new things.
Get help and answers to your questions any time – just post your question to the Cooking Club's blog post for the current month.
Interact with and share recipe notes with other Fabulous Foodies.
Have a little fun while preparing fabulous foods for your family and friends.
Be eligible to win the monthly prize gaveaway package.




Sign up today to receive e-mail updates of the Cooking Club Blog!



The January 2009 FabulousFoods.com Cooking Club Challenge -- Thinking Healthy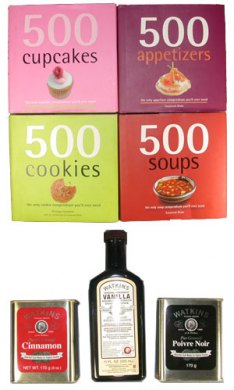 The December 2008 FabulousFoods.com Cooking Club Challenge -- Your Favorite Kitchen Gadgets