Popular children's song "The 12 Days of Christmas" may be irritating on its own, but these 12 cocktails can make even The Muppets' version tolerable.
4 Calling birds
What on earth is a calling bird, you ask? Well, it's nothing. Actually, it's "colly" birds, otherwise known as the common black bird. While its namesake may be common, this blackberry margarita is anything but.
4 Blackberry margaritas recipe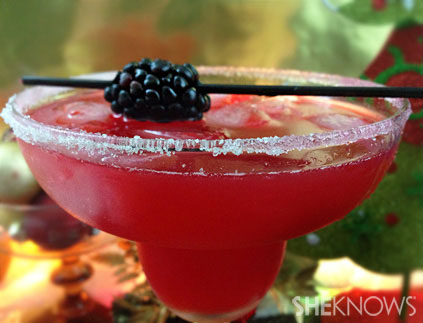 Serves 4
Ingredients:
Ice
Salt or sugar
1 cup silver tequila
1 cup blackberry juice
1/3 cup real lime juice (or a mix of lime and orange)
1/2 cup orange liqueur
4 blackberries or limes (for garnish)
Directions:
Rim 4 margarita glasses with salt or sugar by rubbing the rims with the still-wet husks of lime from the fresh-squeezed lime juice and twisting it around on a small platter filled with salt or sugar.
For a margarita on the rocks, fill a large punch bowl or pitcher with ice. Add the tequila, blackberry juice, lime juice and orange liqueur and stir. For a frozen margarita, add the ice, tequila, blackberry juice, lime juice and orange liqueur to a blender and pulse until slushy.
Pour the margarita into the rimmed margarita glasses and garnish with blackberries or limes.
Up next: 5 Golden rings >>