Popular children's song "The 12 Days of Christmas" may be irritating on its own, but these 12 cocktails can make even The Muppets' version tolerable.
2 Turtle doves
What makes a boozy shake better? Chocolate and caramel, of course! This chocolate turtle-flavored shake makes enough for two, but we recommend a single glass to share with your own sweet turtle dove.
The boozy turtle dove shake recipe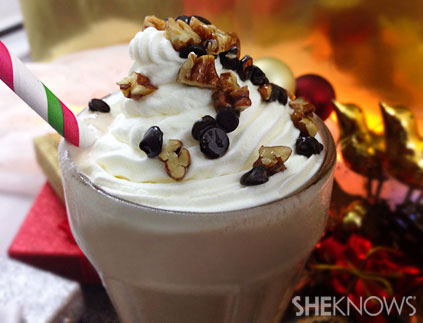 Serves 2
Ingredients:
1-1/2 cups chocolate ice cream
1-1/4 ounces butterscotch schnapps
Chocolate syrup
Caramel syrup
Whipped cream (for garnish)
Small handful chopped pecans (for garnish)
2 Dove chocolate miniatures, chopped, or 1 small handful mini chocolate chips
Directions:
In a blender, combine the chocolate ice cream and schnapps and blend until well combined and smooth.
Top it with a little chocolate and caramel syrup, then pour it into the glass. This will create a swirl in the glasses. If you use 2 glasses instead of 1, you may want to add more chocolate and caramel syrup to the pitcher before pouring the second to get the same swirl.
Top it with whipped cream.
In a small dish, combine the chopped pecans, chopped chocolate or chips and a bit of caramel and toss them together gently. Sprinkle the mixture over the whipped cream and serve the drink(s) with a straw.
Up next: 3 French hens >>