Impress all of your guests this holiday season with these stunning centerpieces. Not only will they be amazed with the final product, they won't believe you made them yourself.
1. Thanksgiving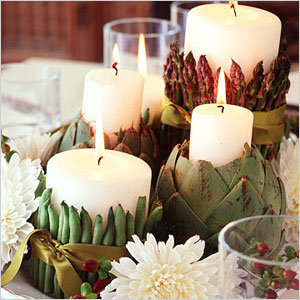 This Thanksgiving-friendly centerpiece features foods that are sure to be served at your table this year, including green beans and asparagus. The little extra pop of color makes your centerpiece stand out from the monochromatic turkey and mashed potatoes.
2. Pearls on pearls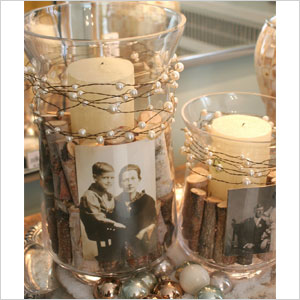 This centerpiece is the epitome of rustic elegance. The combination of the mini logs and dainty pearls will surely leave your guests saying, "I want to make that!" The old school images are the perfect way to incorporate family members who cannot attend the festivities.
3. Rustic simplicity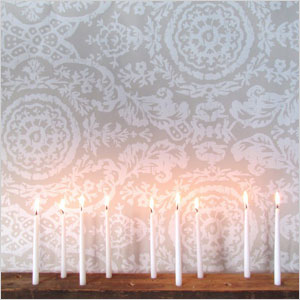 This Nordic-inspired piece is ideal for a longer table and an intimate ambience. Have your man help you out with the carpentry part of the project and you'll be ready to present an understated, yet elegant centerpiece to all of your friends and family.
4. Traditional Christmas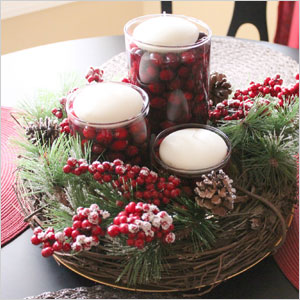 What could say Christmas more than cranberries and pine needles? The fresh berries will keep your table smelling fresh throughout the entire meal and add a brilliant pop of color.
5. Winter Wonderland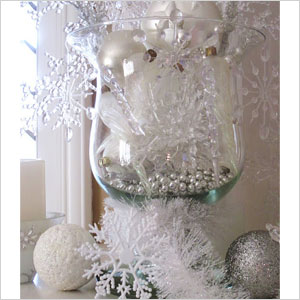 Although this stunning creation was originally made as part of a mantelpiece display, it could easily go on your table. Perfect for a Winter Wonderland-themed party or even a white wedding, this centerpiece will impress even the most frigid partygoers.
6. Cranberry canes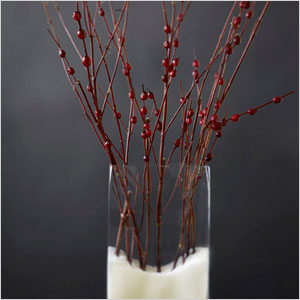 Spear dogwood branches through fresh cranberries for a modern and sophisticated centerpieces. By piercing the fresh fruit, your table will not only look amazing, but smell absolutely incredible as well.
7. Golden pumpkins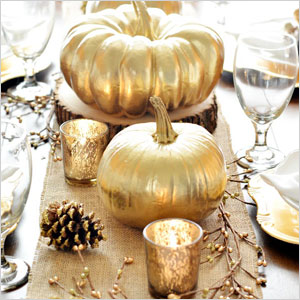 If you're really looking to blow away your company this holiday season, this golden centerpiece filled with pumpkins and pine cones is the way to go. The warm, inviting colors will even make strangers want to join your table!
8. Jingle all the way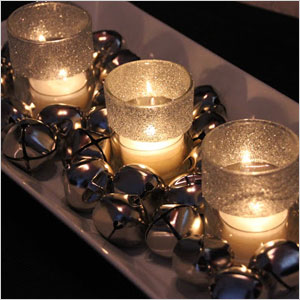 Jingle bells are one of the staples of the Christmas spirit. When you hear them coming down the street, you know the best time of year is near. Add in some glitter-dipped candles and your centerpiece is ready for any special occasion.
9. Retro-inspired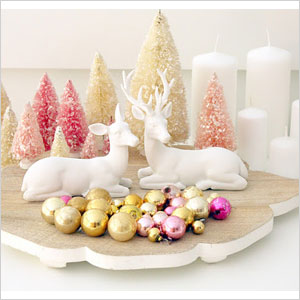 Although you can never go wrong with classic green and red, switching up your color palette adds an unexpected flair to your table. But don't worry about this setup being too funky, because the snow-covered Christmas trees and adorable deer couple will remind your guests that it is, of course, still the holidays.
10. Simple flowers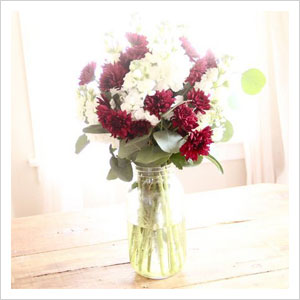 Pressed for time and a little short on cash? Don't worry. This simple, yet beautiful centerpiece will cost you only about $10. Consult your local floral department for the prettiest holiday flowers, place them in a Mason jar and you're ready to start setting the table.
11. Repurposed wine bottles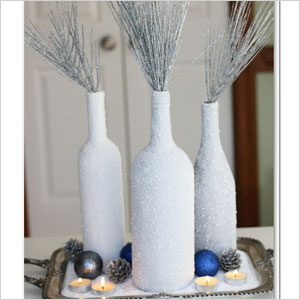 With the holiday season in full swing, I'm sure we all have plenty of empty wine bottles on hand. With some paint, Epsom salt, Mod Podge, a paintbrush and a little creativity, you can create a centerpiece with something you would normally just throw in the recycling bin.
12. Skating through dinner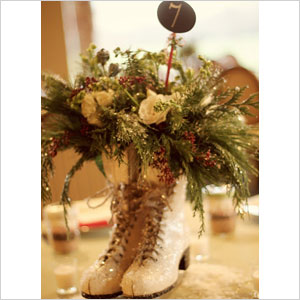 Photo credit: Whimsy
Make sure to pick up some old ice skates the next time you're at your local thrift shop. Cover them in a little Epsom salt and stuff them with holiday foliage to create a unique centerpiece. This piece is also ideal because it doesn't cater to any specific religious domination.
13. Floating candles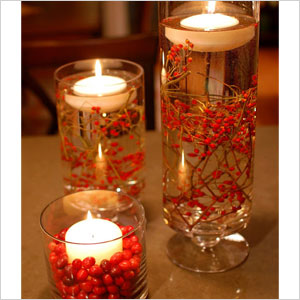 Nothing is more chic than a floating candle, especially when you toss cranberries into the mix. This surprisingly simple DIY centerpiece will make you seem like a decorating expert at your next holiday event.
14. Mini Christmas tree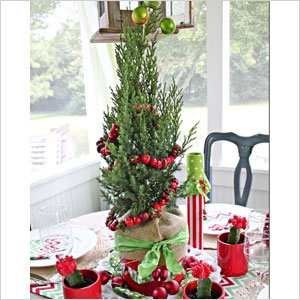 A mini Christmas tree? Seriously, who isn't going to be excited about a mini Christmas tree? Just make sure you can see all of your guests around the table and not obstruct anyone's view of everyone's favorite drunk uncle.
15. Vintage romance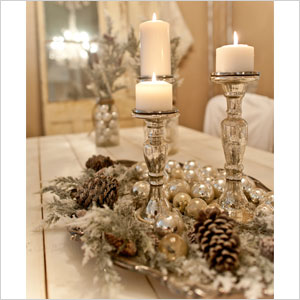 This cute little setup is perfect for a romantic dinner with your significant other. Make the candle your only lighting and a very special night awaits.
More related links
10 Tips for a seamless holiday party
Secrets of great Christmas cookies
Etiquette rules that still apply