We don't know about you, but we're tired of the same ol' Thanksgiving menu. Casseroles, turkeys, rolls, it's all getting a little "been there, done that." So we decided to update our favorite green bean casserole into something a little more modern and came up with these savory little cupcakes!
These bite-size cupcakes taste just like your favorite green bean casserole, just a little better and so much sexier. Not only are these easier and more chic to eat, they are so much easier to clean up! No forks, plates or napkins necessary. Now that's a tradition we can get on board with.
Savory green bean casserole "cupcakes"
Slightly adapted from Zim on a Whim.
Makes about 8 to 10 cupcakes.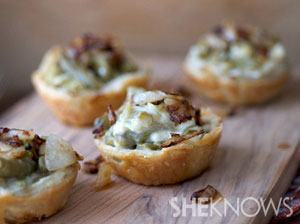 Ingredients:
1 homemade pie crust (use this recipe)
2 cans green beans, drained
1 can low-fat cream of mushroom soup
2 tablespoons buttermilk
1 cup onions, chopped
2 tablespoons butter
About 1/2 cup Parmesan cheese
Salt and pepper to taste
Directions: 
Preheat oven to 350 degrees F. Grease a muffin tin with nonstick cooking spray. Roll the dough out to about 1/4 inch thickness. Using a large circle cookie cutter, cut out circles. Push the dough circles into the muffin tin, pushing the dough all the way down into the cavity and up the sides.
Bake for about 8 to 10 minutes, or until slightly golden.
To make the casserole, mix the green beans, cream of mushroom soup, buttermilk and salt and pepper.
Scoop the mixture into the pie crusts, filling about 3/4 of the way full. Top with Parmesan cheese. Bake for about 15 to 18 minutes, or until filling is bubbly.
Meanwhile, prepare onions by melting the butter in a skillet over medium heat. Add onions and cook until soft and golden brown, about 5 minutes.
Once casseroles are done, top with onions and serve!
More unique Thanksgiving recipes
Apple-herb turkey gravy and other unique gravy recipes
Out of the ordinary side dishes for Thanksgiving
More than just pie: Thanksgiving cake and other unique holiday desserts