Break the rules and conventions of pie eating and enjoy your favorite banana cream pie without a fork or plate! These luscious cream-filled donuts are the perfect way to enjoy your favorite dessert in breakfast form.
These moist, fluffy and a little crunchy donut holes are the perfect on-the-go breakfast or snack for those busy weekday mornings. Your kids will love these as much as you do, if you choose to share that is. We wouldn't blame you one bit if you didn't.
Banana cream pie donut holes
Yields about 1 dozen donuts
Ingredients: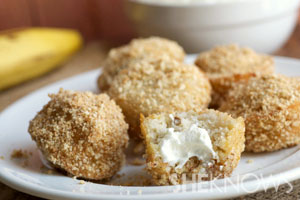 For the donut holes:
3/4 cup all-purpose flour
3/4 teaspoon baking powder
1/2 cup milk
3 tablespoons unsweetened applesauce
1 egg
1 medium ripe banana
2 tablespoons honey
1 teaspoon cinnamon
For the filling:
1/2 cup heavy whipping cream
3-4 tablespoons sugar
For the coating:
About 1 cup graham cracker crumbs
1 tablespoon cinnamon
Directions:
Preheat oven to 375 degrees F. Grease a mini muffin tin with nonstick cooking spray.
In a large bowl, mix the flour, baking powder, cinnamon, milk, applesauce, egg, smashed banana and honey together. Fill the mini muffin tin about 2/3 the way full.
Mix the graham cracker crumbs and cinnamon together. Bake for about 9 minutes or until golden brown. While donut holes are still warm, roll in the graham cracker crumbs until liberally coated.
In a large bowl, whisk the whipping cream and sugar together until stiff peaks form.
Once donuts have cooled, cut out a small little hole in the bottom, keeping the cone of batter. Pipe whipped cream into the center and cover with the saved flute.
More banana recipes
Frozen banana bites recipe
Chocolate filled banana cupcakes
Grilled banana s'mores recipe