We don't know where you are, but where we live, August is the hottest month of the year. As much as we love cooking, you''d better believe were going to stay as far as we can from our stoves as humanly possible. That's why this refreshingly light and fresh sweet pepper gazpacho will be a favorite on our family's dinner table!
The best part about this soup is that you can make it from produce scored from your local farmers market! If you'd prefer to make this virgin, forgo the tequila and sub in chicken broth instead. We love the bite you get from the tequila though and it gives each spoonful an extra bite!
Sweet pepper, jalapeno and cilantro gazpacho
Serves about 4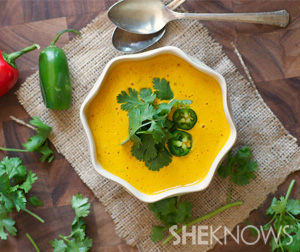 Ingredients:
1-1/4 pounds assorted sweet peppers (we used yellow, red and orange)
1 jalapeno pepper, de-seeded and chopped
1 large heirloom tomato
1/2 cup good quality extra virgin olive oil
1/4 cup good quality tequila
2-1/2 tablespoons white wine vinegar
1 garlic clove, roasted
Sea salt
1-1/2 tablespoons lime juice
1/2 cup cilantro
Directions:
Chop the peppers, tomato and garlic into pieces. Place in a blender and add olive oil, tequila, white wine vinegar, salt, lime juice and pepper. Blend until completely smooth. Add additional salt and pepper to taste.
Chill for about 1 to 2 hours. Serve with fresh cilantro and chopped jalapenos.
More summer soup recipes
Surfside summer pasta salad
Peanut butter starfish cake
Picnic in a pinch: 3 Easy to make picnic recipes