Can't attend Lollapalooza this year? Neither can we. But we aren't going to miss out on the festivities. Play some tunes by your fave Lollapalooza artists and imbibe these cocktails dedicated to the most famous music festival on earth.
The Mumford & Sons recipe
English folk rock band Mumford & Sons has brought us some of our fave music this year. While the band is British, the slightly Irish sound of their nu folk-rock tunes inspired us to create a fun play on the Old Fashioned using Irish whiskey.
Serves 1
Ingredients:
1/16 orange, flesh carved out
1/8 lemon, flesh carved out
Ice
2 ounces Irish whiskey
1/4-1/2 teaspoon agave nectar
2 dashes bitters
Directions:
Cut the orange and lemon flesh into cubes and mash them in the bottom of a small rocks glass. Add ice.
In a cocktail shaker over ice, shake whiskey, agave nectar and bitters until the shaker becomes cold in your hands.
Strain the drink over the ice into the rocks glass.
Radioactive cherry limeade recipe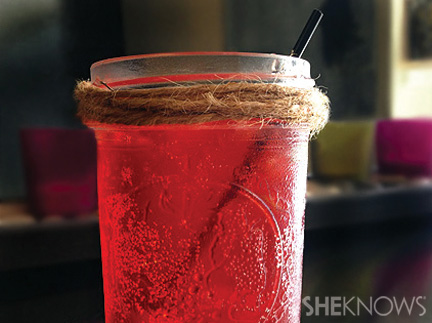 If you haven't heard "Radioactive" by Imagine Dragon, you haven't been watching any television. Every other show seems to have picked it up for a dramatically tense moment or commercial. We created this alcoholic cherry limeade in dragon-red (at least we're guessing there are red dragons) with a radioactive tang to take the edge off on a hot day.
Serves 1
Ingredients:
Ice
2 ounces dry gin
The juice of 1/4 lime (or more for extra tartness)
1 tablespoon (or more) maraschino cherry juice
8 ounces tonic water, chilled
Directions:
In a cocktail shaker over ice, shake the gin, lime juice and cherry juice until the shaker gets extra cold in your hands.
Pour it into a small glass over new ice and top off with tonic water.
Monsters in the Parasol sparkler recipe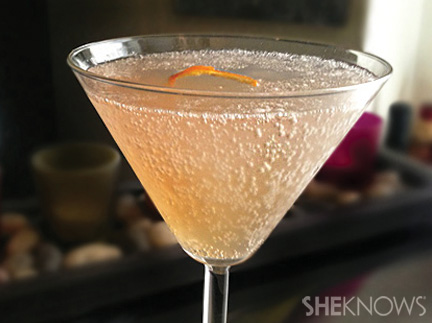 Queens of the Stone Age gave us the unforgettable video for "Monsters in the Parasol" featuring a transvestite walking in a not-so-great neighborhood collecting cash from people she passes (and stealing a puppy from a guy after beating him up in an alley, among other things). To pay homage to this creative song and its equally creative video, we created this sparkler cocktail that's fit for a queen.
Serves 1
Ingredients: 
4 ounces cold pink lemonade
4 ounces high-quality cold sparkling white wine
1 splash orange liqueur
1 sliver of orange peel (for garnish)
Directions: 
Pour the pink lemonade and sparkling white wine into a martini glass or Champagne flute.
Add a splash of orange liqueur and top with a sliver of orange peel.
More fun cocktails recipes
3 Movie-themed cocktails for Oscars night
3 Spicy skinny cocktails
Wine cocktails for fall