All the flavor of cinnamon rolls without all the complicated steps. Your whole family is going to go nuts for this!
This cake is total sweetness overload. It's the taste of cinnamon buns but without all the work. You don't have to wait for the dough to rise and it's not necessary to roll up those little buns. Plus because it's a poke cake you actually poke little holes into the cake and pour the glaze over top. This helps the glaze seep into every little bit of this cake. Just wait until you take a bite of this deliciousness.
Cinnamon roll poke cake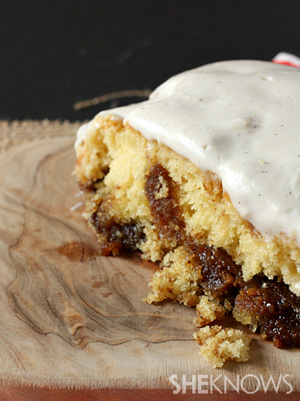 Yields 1 (9 x 13-inch) cake
Ingredients:
1 yellow cake mix
2 sticks unsalted butter, room temperature
1 tablespoon apple pie spice
1/2 cup brown sugar
2 tablespoons flour
8 ounces cream cheese
1/4 cup powdered sugar
1/4 to 1/2 cup milk
1 tablespoon vanilla bean paste
Directions:
Preheat oven to 350 degrees F and spray a 9 x 13-inch dish with nonstick spray.
Make yellow cake mix according to box directions.
Add cake batter to the prepared dish.
In a medium-size bowl, add butter, apple pie spice, brown sugar and flour.
Dot the top of the cake batter with butter mixture. Swirl with a knife.
Cook for about 35 minutes until cooked throughout.
Using the end of a wooden spoon press little holes into the cake.
In a stand mixer, add cream cheese, powdered sugar, 1/4 cup milk and vanilla bean paste. Mix together until smooth and just slightly runny. Add more milk to get the desired consistency.
Pour over the hot cake and let the cake completely cool before cutting.
More cake recipes
No-bake icebox cake recipe
Gooey brown butter cake recipe
Fruit and lemon curd layered angel food cake recipe