Vegetables in desserts isn't a new or novel concept. You've probably had carrot cake or a zucchini muffin at least once in your life, right? But we can probably bet you've never had a Greek yogurt frosted zucchini cookie! Which is why we think you need to make these tonight!
Not only are these super fluffy and sweet, but they are totally healthy too! The cookies are made with mostly applesauce, fresh zucchini and are topped with Greek yogurt frosting, so each cookie has fewer than 100 calories. That means you can have more than just one, which is all we really care about in the end.
Zucchini cookies with thick Greek frosting
Yields 12 large cookies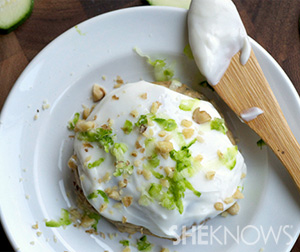 Ingredients:
1 cup all-purpose flour
1 cup whole wheat flour
1 teaspoon cinnamon
Dash of salt
2 tablespoons unsalted butter
6 tablespoons unsweetened applesauce
1/4 cup white sugar
2 large eggs, room temperature
2 tablespoons honey
2 tablespoons brown sugar
1 teaspoon vanilla
1 cup chopped zucchini
1/2 cup chopped walnuts
For the frosting:
6 ounces Greek yogurt
1/4 cup powdered sugar
1 teaspoon vanilla
Directions:
In a large bowl, whisk the flours, cinnamon and salt together. Set aside.
In another bowl, beat the butter, applesauce, sugar, honey and brown sugar together. Add eggs, 1 at a time, beating after each addition. Mix in vanilla. Gradually stir in the flour mixture 1/3 cup at a time or until fully combined.
Carefully mix in the zucchini and walnuts. Cover mixture with foil and chill for at least 24 hours.
Once chilled, preheat oven to 375 degrees F. Grease a baking sheet with nonstick cooking spray or parchment paper. Using an ice cream scoop, scoop out cookies and place 1 inch apart on the baking sheet. Bake for about 12 minutes or until browned.
Let cool completely. Meanwhile, make frosting by whisking the yogurt, sugar and vanilla together. Once cookies have cooked, top each with a hefty spoonful of frosting.
More vegetable-filled dessert recipes
Vegetable desserts
Chocolate zucchini muffins
No-bake carrot cake energy bites