Want a drink that will make you feel as energized as a day at the spa? Whip up this light, fruity and low-calorie cocktail made with green tea, lemongrass and cucumber! All that's missing are those fluffy robes and slippers.
If you can't afford that 90-minute massage you really need, make this cocktail instead. It's a little cheaper and a few will certainly make you forget that back pain.
Green tea, lemongrass and cucumber cocktail
Yields 2 drinks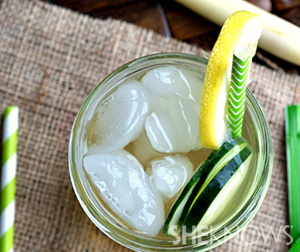 Ingredients:
2-1/2 cups water
2 teabags green tea
1/2 stalk lemongrass
2 tablespoons lemon juice
3 tablespoons sugar
6 slices cucumber
1/4 cup gin
Ice
Directions:
Slice lemongrass in half and cut into 1-inch strips. Place in a saucepan over medium heat. Cover lemongrass with water, sugar and lemon juice. Bring mixture to a boil and then remove from heat. Add teabags and let steep for about 5 to 6 minutes.
Fill 2 glasses halfway with ice. Add 2-1/2 tablespoons of gin to each cup. Fill the rest of the way with the green tea mixture. Stir to mix and add additional tea if it's too strong. Fill each glass with 2 slices of cucumber and a fresh lemon wedge.
More refreshing cocktail recipes
3 Rose wine cocktail recipes
12 Cocktails for summer sipping
Cool and refreshing beer cocktail recipes