Summer is when you spend as much time as you can outside and as little time as you can sweating over an oven. Forget regular cakes, cupcakes or cookies for your kid's summer birthday or your barbecue and whip up this creamy, sweet, salty and pretty no-bake icebox cake!
This cake has everything you could possibly crave in a cake, from a salty crunchy pretzel crust to a rich chocolate topping and fresh berry garnish. Add a few dabs of creamy whipped cream for the ultimate dessert. DQ, eat your heart out!
No-bake pretzel and berry ice cream cake
Serves about 8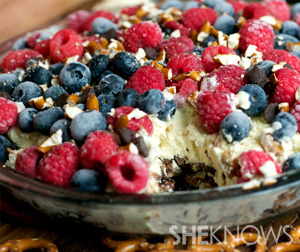 Ingredients:
1-1/2 cups finely chopped pretzels
6 tablespoons melted butter
3/4 cup melted chocolate
1/2 container vanilla bean ice cream, soft
1 pint blueberries
1 pint raspberries
2-1/2 tablespoons chocolate chips
2-1/2 tablespoons chopped pretzels
Whipped cream for garnish
Directions:
Mix the pretzels and melted butter together in a bowl. Carefully press down into the bottom of a spring form or pie plate. Freeze until firm, about 30–45 minutes. Once firm, top the pretzels with melted chocolate and spread with a spatula to cover the pretzels. Cover with foil and freeze for about an hour, or until set.
Once frozen, top with soft ice cream and spread over the chocolate. Top the ice cream with the berries, chocolate chips and pretzels. Cover with foil and freeze until completely firm, about 6–8 hours.
Cut and serve immediately with dollops of whipped cream.
More no bake summer desserts
3 Low-fat no-bake desserts
No-bake desserts to keep your kitchen cool
Easy no-bake dessert ideas