Growing up, root beer floats were a summer tradition for us. We'd go to grandma's, and she'd whip up these giant floats, filled with homemade vanilla ice cream and crisp, refreshing root beer. To update these for a dinner party or adult barbecue, turn your favorite floats into decadent trifles.
These delicious trifles are elegant, decadent and taste just like the floats you had growing up. Although the straw completes the look of these beautiful desserts, you definitely need a spoon or fork to enjoy!
Stacked root beer float trifles
Serves 8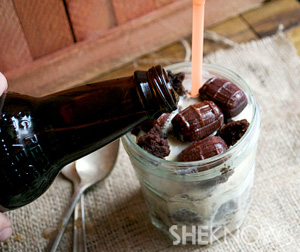 Ingredients:
For the cupcakes:
1/2 cup flour
2 tablespoons unsweetened cocoa powder
1/2 teaspoon baking soda
Dash of salt
1/4 teaspoon pumpkin pie spice
1/4 cup + 2 tablespoons brown sugar
1 egg
1/4 cup milk
1/4 cup softened butter
1-1/2 teaspoons root beer extract
2 ounces fresh root beer
1 tablespoon applesauce
For the topping:
4 cups vanilla ice cream
Straws
Root beer candies
Directions:
To make the cupcakes, preheat oven to 350 degrees F. Line a cupcake pan with paper liners. In a small mixing bowl, whisk the flour, cocoa, baking soda, pumpkin pie spice and salt.
In another bowl, beat the egg and sugar until smooth. Add in milk, butter and root beer extract. Whisk in the applesauce.
Stir the dry ingredients into the wet ingredients and mix until smooth. Fill each cupcake liner 2/3 full with batter. Bake for about 15 minutes, or until a toothpick inserted in the middle comes out clean. Let cool.
To make the trifles, crumble the cupcakes. Layer the cupcake crumbles and the ice cream, ending with the remaining 1/4 cup ice cream in a medium-size Mason jar. Top with a few additional crumbs and root beer candies. Place a straw in each trifle.
More elegant dessert recipes
Elegant black and white desserts
3 Edible champagne recipes
Chocolate cannoli recipe