One of our favorite desserts of all time is tiramisu. The soft, fluffy, mousse-like texture paired with the kick of dark rum — it's the best way to end any meal. Take your favorite Italian dessert and turn it into a cocktail instead with this boozy shake.
This super thick, slightly chunky milkshake tastes exactly like tiramisu, only with a bit more of a boozy kick. When you don't have time to make your favorite Italian delicacy, this shake is the next best thing!
Tiramisu boozy milkshake
Serves 1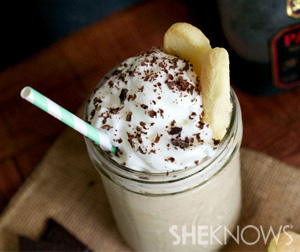 Ingredients:
About 3-1/2 large scoops vanilla bean ice cream
1/4 cup dark coffee liqueur (we used Patron XO Cafe)
1/4 cup Baileys
About 1/4 cup milk
6 ladyfingers
1 tablespoon chocolate shavings
Whipped cream
Directions:
Place the ice cream, coffee liqueur, Baileys, milk and 4 ladyfingers into a blender. Pulse on low or until thick and creamy. Top the milkshake with whipped cream and garnish with chocolate shavings. Add the remaining 2 ladyfingers as garnish.
More boozy milkshakes
3 Boozy milkshake recipes
3 Boozy Mother's Day milkshakes
Refreshing Memorial Day cocktail recipes