Who said your desserts couldn't also give you a few servings of vegetables? These mini sweet potato cheesecakes are the perfect dessert if you're looking for something a bit healthier but still want to pack a powerful flavor punch!
If you can't get your kids (or overly picky husband) to eat their veggies, this is the perfect way to trick them! You don't get any sweet potato flavor, only creamy cheesecake and a dash of sweetness. Why can't all vegetables taste this good?
Mini sweet potato cheesecakes
Yields 12 cheesecakes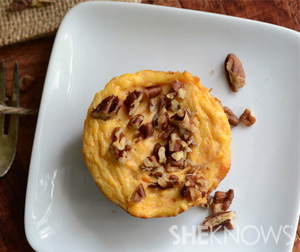 Ingredients:
For the crust: 
1 cup graham cracker crumbs
2 tablespoons unsalted butter
For the filling: 
2 large sweet potatoes, baked
8 ounces cream cheese
1 teaspoon cinnamon
1 egg
Dash of salt
1 teaspoon vanilla or almond extract
1 cup crushed pecans
Directions:
Preheat oven to 350 degrees F. Liberally grease a muffin tin with nonstick cooking spray.
Mix the graham cracker crumbs with butter and stir to combine. Press the graham crackers into the muffin tins with your hands so it sticks. Bake for about 10 minutes or until golden brown.
Scoop the flesh out of the sweet potatoes and place in a large mixing bowl. Add the cream cheese, cinnamon, egg, salt and extract. Using an electric mixer, beat until creamy and smooth.
Top the crusts with filling (to the top of the cavities). Sprinkle the tops with chopped pecans and bake for about 23 minutes.
More fun cheesecake recipes
Fried cheesecake burritos topped with strawberries
Cheesecake mashed potato bites with caramel gravy
Mini black cherry cheesecakes