Craving a tart lemon pie but no one else in your family will eat it? Don't forgo your favorite dessert or let food go to waste. Instead, make one of these lemon meringue pies in a jar!
These single serve pies are perfect for a fun date night dessert at home or even for a Mother's Day dessert. Make your mom her favorite pie while the rest of the family enjoys their own desserts.
Lemon meringue pie layered jar
Serves 2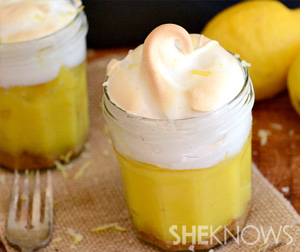 Ingredients:
1/2 cup graham cracker crumbs
2 tablespoons butter
1 box cook & serve lemon pudding
1/3 sugar
2 egg yolks
2-1/4 cups water
3 egg whites
1/3 cup sugar
Lemon zest
Directions: 
Preheat oven to 350 degrees F. Mix the graham cracker crumbs with the melted butter and stir to combine. Press the crumbs into the bottoms of 2 Mason jars. Bake for about 10 minutes or until lightly browned.
Meanwhile, mix the pudding, sugar, egg yolks and water together in a saucepan. Bring mixture to a boil over medium heat, stirring constantly. Remove from heat and stir (pudding will be thick).
Pour pudding over the crusts in the jars.
To make the meringue, whip the egg whites with an electric mixer until foamy. Gradually add sugar until firm peaks form. Scoop meringue over the pudding (you'll have plenty left over for another batch of pies or another dessert!).
Bake for about 10-15 minutes again, or until meringue is lightly browned. Chill for at least 4 hours before serving and top with lemon zest!
More desserts in a jar
Creamsicle cupcakes in a jar
Layered Nutella mousse in a jar
Mason jar pumpkin cupcakes