Can't get enough of those fluffy, buttery breadsticks you get at Olive Garden? Satisfy your craving at home with this easy to replicate, copy cat breadstick recipe, which is almost better than the original!
These soft, fluffy, melt in your mouth and buttery breadsticks are the perfect companion to your favorite pastas, pizzas and decadent lasagnas. Or you can make them and stuff 10 in your mouth while a glass of wine. We won't judge.
Homemade Olive Garden breadsticks
Yields about 16 breadsticks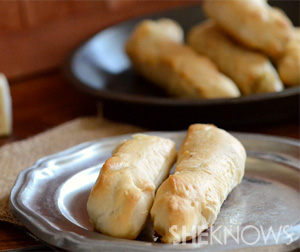 Ingredients:
Breadsticks: 
1 package active dry yeast
1-1/2 cups warm water (about 110 degrees F)
4-1/2 cups flour
2 tablespoons melted butter
1-1/2 tablespoons sugar
Dash of salt
Glaze: 
1 stick butter
Dash of salt
1/2 teaspoon garlic powder
Directions: 
Mix the yeast, sugar and water together in a bowl. Let sit for about 10 minutes, or until bubbly.
Add the flour and melted butter and stir to combine, or until a dough forms. Place the dough on a floured surface and knead until soft and elastic, about 5-6 minutes.
Separate the dough into 16 pieces and roll with your hands to create thin logs (shaped like breadsticks). Cover with plastic wrap or a towel and let rise in a warm spot for about 45-60 minutes.
Once raised, preheat oven to 400 degrees F. Grease a baking dish with nonstick baking spray. Place the sticks on the dish and bake for about 8 minutes.
While they bake, melt the butter in the microwave. Add garlic powder and salt and stir to combine. Take the breadsticks out and coat with 1/2 the butter mixture. Bake for another 8 minutes or until golden brown. Immediately cover with remaining butter.
More copycat restaurant recipes
California Pizza Kitchen's Sicilian pizza recipe
Shamrock shake recipe
Chicken and shrimp carbonara