Spring means just one thing to us women — it means bathing suit season is approaching at a rapid speed. Fit into that two-piece without weird diets or juices by making one of these healthy spring salads instead!
Using fiber rich grains like quinoa and fresh produce like strawberries and tomatoes will make healthy eating an absolute breeze this spring. You can also swap the proteins and ingredients listed for ones your family would love, so get creative!
Yellow beet, tomato & strawberry quinoa salad
Serves about 4
Ingredients:
For the salad: 
1 cup cooked quinoa
4 cups mixed greens
2 medium yellow beets
1 cup chopped brown tomatoes
1 cup sliced strawberries
4 tablespoons pine nuts
4 tablespoons soft goat cheese
For the dressing: 
2 tablespoons white wine vinegar
1 teaspoon Dijon mustard
1 teaspoon chopped onion
1 teaspoon honey
Dash of salt and pepper
4 - 5 tablespoons olive oil
Directions: 
Preheat oven to 450 degrees F. Liberally grease an oven safe dish with nonstick cooking spray. Place the 2 beets in and roast for about 35-45 minutes, or until soft. While warm, remove the skins and dice.
Mix the greens, quinoa, diced beets, tomatoes and strawberries in a large bowl. Stir to fully combine.
To make the dressing, whisk the vinegar, mustard, onion, honey, salt and pepper and olive oil. Dress the salad to your preference. Distribute the salad into 4 bowls and top each bowl with 1 tablespoon of pine nuts and goat cheese.
Grilled chicken with warm bacon vinaigrette
Serves 4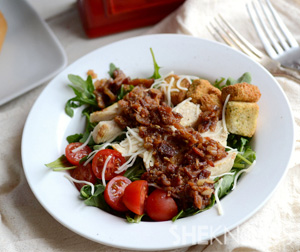 Ingredients:
For the salad: 
2 boneless skinless chicken breasts
4 cups mixed greens or baby arugula
1 cup sliced tomatoes
1 cup croutons
4 tablespoons mozzarella cheese
For the dressing: 
4 slices thick-cut bacon
2-1/2 tablespoons chopped shallots
3 tablespoons white wine vinegar
About 2 teaspoons Dijon mustard
Dash of salt and pepper
3-1/2 tablespoons olive oil
Directions: 
Preheat a grill to medium. Add chicken and grill until fully cooked, about 6-8 minutes. Set aside and slice.
To make the vinaigrette, heat the bacon in a large nonstick skillet over medium heat. Remove the bacon from the pan and crumble. Save about 1-1/2 tablespoons of bacon fat. Add the shallots and cook until softened. Mix in the white wine vinegar, mustard and salt and pepper. Remove from heat. Slowly whisk in the olive oil 1 teaspoon at a time.
Mix the greens, tomatoes and croutons in a large salad bowl. Top the greens with sliced chicken and dress with bacon dressing.
Tuna nicoise lettuce wraps
Recipe adapted from My Recipes
Serves 8 (2 servings each)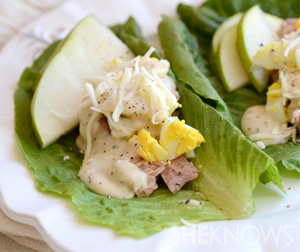 Ingredients:
4 cans tuna in water, drained
24 romaine lettuce leaves
4 hard-boiled eggs
1/2 cup Caesar dressing
1/2 large pear, sliced
1/2 cup mozzarella cheese
Pepper
Directions: 
Cut the stems off the lettuce leaves. Chop the hard-boiled eggs into bite size pieces.
Top each leaf with about 1 tablespoon tuna and a few pieces of crumbled eggs. Top with 1/2 tablespoon of Caesar dressing, 1/2 tablespoon mozzarella cheese and a few slices of pear.
More healthy salad recipes
Healthy pasta salads
3 Protein-rich salad recipes for lunch
Healthy salads for the family