Who doesn't love a nice cold glass of lemonade? We gave this nostalgic favorite a grown up makeover by adding vodka and turning it into a beloved boozy shake!
We are just a little bit obsessed with boozy shakes here at SheKnows, but can you blame us? This, though, has to be one of our favorites. The mix of homemade pink lemonade ice cream, citrus vodka and whipped cream make for one seriously delicious drink.
Boozy pink lemonade milkshake
Yields 2 milkshakes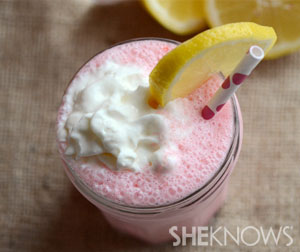 Ingredients:
For the ice cream: 
1/2 cup milk
1/2 cup white sugar
1 cup heavy or light cream
1/4 container pink lemonade concentrate
1/2 teaspoon vanilla
Red food coloring
For the milkshake:
1/4 cup vodka
1/3 cup whipped cream
1/4 cup milk
1-1/2 tablespoons lemon juice
Directions: 
To make the ice cream: Whisk the milk, sugar and cream together until sugar is dissolved, about 5 minutes. Stir in the pink lemonade concentrate, vanilla and red food coloring (to get a nice deep pink color). Cover the bowl with plastic wrap and chill in the refrigerator for at least an hour.
Remove from the bowl and pour into a frozen canister of an ice cream maker. Turn it on and churn for 15-20 minutes. Ice cream will be soft. Place in the freezer to firm up for about 20-40 minutes.
Add the ice cream to a blender. Add vodka, whipped cream, lemon juice and milk and blend until thick and creamy.
More boozy milkshake recipes
3 Boozy milkshake recipes
Inaugural boozy milkshake
Boozy red velvet shake with homemade ice cream