Nothing will make you forget that brutal, icy cold winter we just had like a fresh and fruity cocktail, right? These delicious libations are filled with fresh spring produce, making them the perfect sip for these longer and warmer days.
Grab your favorite Mason jar, Champagne flute or pilsner glass and pour yourself one of these delicious fruity cocktails. Made with real fruit and your favorite liquors, these will make it easy to soak up these first few weeks of spring.
Strawberry infused gin and tonic
Serves 2
Ingredients:
6 ounces gin
8 ounces club soda or tonic water
1/2 cup frozen strawberries, defrosted and smashed
About 3 ounces simple syrup
Directions: 
In 2 glasses, pour 3 ounces gin, 4 ounces club soda, 1/4 cup smashed strawberries and 1-1/2 ounces simple syrup. Mix with a spoon. Add additional simple syrup to taste.
Add ice and serve!
Easy pink lemonade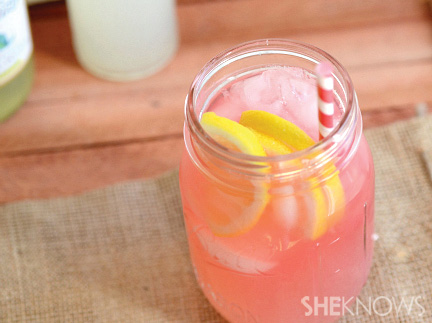 Serves about 4
Ingredients:
1/2 cup sugar
4 3/4 cups water
Lemon juice from about 10 lemons
1/4 cup cranberry juice
1/4 cup lemon vodka
Lemon peels for garnish
Directions:
Mix sugar, 1/2 cup water and lemon juice in a small saucepan. Bring to a boil and then reduce to a simmer until all of the sugar is dissolved.
In a pitcher, mix the sugar/lemon mixture, cranberry juice, remaining water, lemon vodka, lemon peels and ice. Stir to combine.
To remove most of the lemon, strain it through a wire mesh strainer. Serve immediately.
Green apple spritzer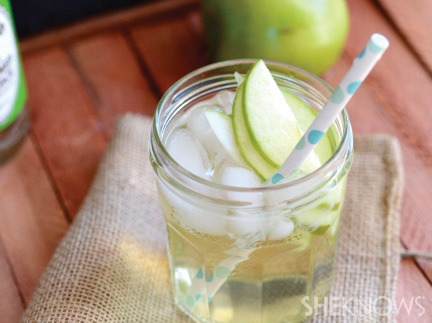 Recipe inspired by Chow
Serves 3
Ingredients:
1/2 cup sugar
1/2 cup water
1/2 Granny Smith apple
2-1/4 cups dry Champagne
5 tablespoons lime juice
Directions:
Make simple syrup by dissolving the sugar and water together in a saucepan. Bring to a boil and then reduce to a simmer until sugar dissolves.
Mix the simple syrup, Champagne and lime juice together. Add ice and Granny Apple slices and serve!
More fruity cocktail recipes
Sip-worthy summer cocktail recipes
Drunken cherry milkshakes
Blood orange mojitos