Fridge full of leftover ham? Instead of yet another boring ham sandwich, why not use it in a creamy soup? This split pea soup is warm, cozy, healthy and so easy to make.
This large batch of soup is made with a ham hock and then topped with crispy ham pieces, so it's incredibly flavorful. Serve with crispy French bread for a hearty, comforting and cozy meal!
Split pea soup topped with crispy ham
Recipe adapted from Taste of Home
Serves about 4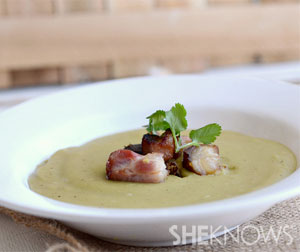 Ingredients:
1/2 pound green split peas (about 1/2 bag)
2 cups chicken broth
4 cups water
1-1/2 teaspoons olive oil
1/2 large onion, chopped
2 stalks celery, chopped
3 cloves garlic, chopped
1 well-rinsed ham hock
2 tablespoons chopped celery leaves
2 tablespoons oregano
1 tablespoon chopped basil
1 bay leaf
Salt and pepper
Directions: 
In a large stockpot, add split peas, chicken broth, water, onion, celery, garlic, ham hock, celery leaves, oregano, basil and the bay leaf. Bring mixture to a simmer and cover with a lid, leaving a slight bit open to aerate. Let simmer for at least an hour or when peas are soft.
Remove ham hock from the pot and set aside. Cut the meat off the bone and chop into bite-size pieces. Heat the olive oil over medium heat and add ham pieces. Cook until crispy. Remove from heat and let drain on a paper towel.
Add the soup into a blender and pulse until thick and creamy. Add salt and pepper to taste.
Pour soup into a bowl and top with crispy ham pieces.
More leftover ham recipes
2 Tasty recipes for leftover ham
3 Ways to use up your Easter leftovers
Ham, egg and cheese waffle sandwich recipe