Irish soda bread is a St. Patrick's Day tradition, and you really can't have a proper Irish meal on March 17 without it. To keep your Irish relatives happy and to give you more time to drink, we've cooked up this classic in a slow cooker!
Simply stir, knead and toss into a slow cooker — really, this bread is that easy. Many prefer their bread without raisins, but we love the extra chewy texture they give each bite. Whether you love it or hate it (and only make to appease the in-laws), this recipe will make your St. Patrick's Day just a little less stressful.
Slow cooker Irish soda bread
Recipe adapted from Crock-Pot Ladies
Yields 1 loaf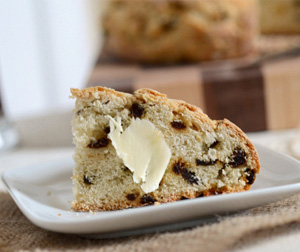 Ingredients:
2-1/2 cups all-purpose flour
3 tablespoons butter
1 teaspoon baking powder
1 teaspoon baking soda
Dash of salt
3 tablespoons sugar
3/4 cup buttermilk
3/4 cup raisins
Directions: 
Whisk the flour, sugar, baking powder, baking soda and salt together in a large mixing bowl. Using a pastry knife, cut in butter until mixture is crumbly. Add in the buttermilk, about 1/4 cup at a time, until a dough forms. Gently stir in raisins.
Place dough onto a floured surface and knead for about 2 minutes. Then carefully slice an x on the top of the dough.
Place into your slow cooker in a circular mold. Cook on high for about 2 hours, or until bread is golden brown.
More traditional Irish recipes
Traditional Irish and cream cocktails
Traditional Irish lamb stew recipe
Traditional Irish dinner