You can't have St. Patrick's Day without Guinness. However, it's sometimes frowned upon to drink beer before 9 a.m. Don't worry, though — we found you a loophole! Eat this Guinness-soaked chocolate bread instead!
No one will know you are enjoying a little of your favorite stout with each bite of this soft, incredibly decadent breakfast bread. This is the perfect recipe to kick start your St. Patrick's Day celebration (or just another boring Tuesday at the office).
Dark chocolate cherry Guinness bread
Yields 1 loaf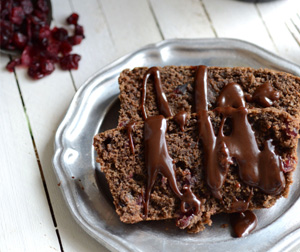 Ingredients:
1 cup chocolate chips
1 stick butter, soft
2/3 cup brown sugar
2 eggs
3/4 cup applesauce, unsweetened
3/4 cup Guinness
2 teaspoons vanilla
2-1/2 cups all-purpose flour
2 tablespoons unsweetened cocoa powder
1 teaspoon baking powder
1 teaspoon baking soda
Dash of salt
2/3 cup dried cherries
Chocolate glaze
Directions:
Preheat oven to 350 degrees F. Grease a 9 x 5-inch loaf pan with nonstick cooking spray and set aside.
In a large mixing bowl, cream butter and eggs together with an electric mixer until creamy. Add eggs, applesauce, beer and vanilla and mix until combined.
In another bowl, sift the flour, cocoa powder, baking powder, baking soda and salt together. Add the dry mixture to the wet mixture and stir with a wooden spoon to combine. Add in the cherries and mix.
Pour mixture into the prepared baking pan and bake for 45-50 minutes, or until a toothpick inserted in the middle comes out clean. Let cool for 10 minutes before you remove from the pan and place on a wire cooling rack.
Drizzle each slice with chocolate glaze.
More Guinness recipes
Dark chocolate Guinness cupcake recipe
3 Recipes using beer
4 Uses for Guinness in cooking and baking