Can't decide what to have for brunch? Enjoy all of your favorites in one with this savory, cheesy and super delicious pull apart bread made with sausage, cheese and bacon!
This hearty loaf makes the perfect breakfast for those busy mornings or an amazing addition to your brunch spread. For an added hint of sweetness, drizzle a bit of maple syrup over the top for the ultimate sweet and savory bread!
Cheesy bacon sausage pull apart bread
Recipe adapted from Taste of Home
Serves about 12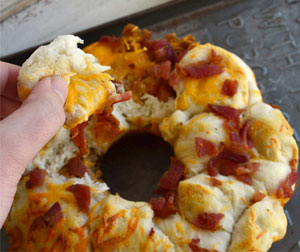 Ingredients:
2 (7.5 ounce) cans of buttermilk biscuits
1-1/2 cups shredded cheddar cheese
6 pieces thick cut bacon
3.5 ounces pork sausage
Salt and pepper to taste
Directions: 
Preheat oven to 375 degrees F. Grease a fluted Bundt cake pan with nonstick cooking spray.
In a large skillet, cook bacon until crispy. Remove from heat and place on a paper towel-lined plate. Place sausage in another skillet and crumble with a spatula. Cook until golden brown, about 6 minutes. Remove grease from pan and place sausage in a bowl.
Cut each biscuit in half and place half of the biscuits (about 1 can's worth) into the bottom of the greased Bundt pan. Mix together half the bacon crumbles and the sausage and sprinkle over the first layer over biscuits. Cover the meats with about 3/4 cup cheese.
Layer the remaining biscuits over the cheese/meat mixture. Add remaining 3/4 of cheese and bacon to the top of the biscuits.
Bake for about 16 minutes, or until biscuits are golden brown. Let cool slightly in the pan and then serve.
More pull apart bread recipes
Caramel pumpkin apple pull apart bread
Limoncello pull-apart monkey bread
Savory garlic and cheese pull apart rolls recipe