Love falafel but don't love the extra calories that come with each deep fried nugget? Forgo the frying and bake these healthy bite-size balls instead and throw them on a salad instead of a pita to save carbs!
You save over 30 calories and 9 grams of fat when you bake versus fry, plus you save even more when you pair your falafel with a fresh salad instead of a pita. Top your salad with homemade tzatziki or your favorite dressing for a healthy, easy Middle Eastern dinner recipe.
Easy baked falafel salad
Serves about 4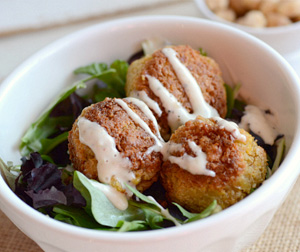 Ingredients:
1 (15 ounce) can chick peas, drained
1 small onion, chopped
2 cloves garlic, chopped
2 tablespoons all-purpose flour
1 teaspoon crushed red pepper
1/3 teaspoon cumin
1/2 teaspoon baking powder
2 tablespoons olive oil
Salt and pepper
4 cups mixed greens
Directions: 
Preheat oven to 400 degrees F. Grease a baking dish with oil and set aside.
Place chickpeas, onion, garlic, flour, crushed red pepper, cumin, baking powder and salt and pepper in a food processor. Pulse on low until mixture makes a thick paste. Shape paste into Ping-Pong size balls and place in the greased baking dish.
Bake balls for about 25-35 minutes, or until golden brown. Serve balls on top of mixed greens and top with dressing!
More ethnic recipes
Ethnic burger recipes
Middle Eastern tuna salad pita recipe
Eastern European recipes