Forget regular waffles or a standard omelet for your weekend brunch. Instead, whip up these adorable mini lemon blueberry pancake popovers! Each bite has less than 100 calories, so you can enjoy your meal guilt-free!
These delicious popable pancakes are super fluffy and slightly dense, and are perfect paired with a big heaping of powdered sugar or syrup and a mimosa! Your brunch will never be the same.
Lemon blueberry pancake popovers
Yields about 12 popovers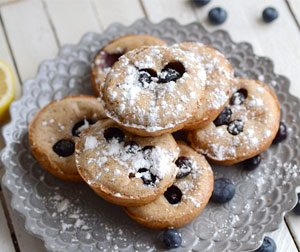 Ingredients:
1 cup lemon nonfat Chobani Greek yogurt
2 tablespoons water
2 eggs
1 teaspoon vanilla
1 teaspoon baking soda
2 tablespoons brown sugar
Dash of cinnamon
1 cup whole wheat flour
1/2 cup blueberries
2 tablespoons melted butter
Directions: 
Preheat oven to 450 degrees F.
Place Greek yogurt, eggs, water and vanilla into a blender and blend. Add flour, baking soda, cinnamon and brown sugar. Blend the mixture until frothy and bubbly. Let sit for 10 minutes.
Meanwhile, place a muffin tin in the oven and heat for about 3-5 minutes. Once heated, brush the butter into the muffin cavities with melted butter using a pastry brush.
After mixture has sat, blend once more. Pour into muffin cavities, filling about 3/4 of the way full. Sprinkle each popover with a few blueberries.
Bake for about 10 minutes, and then without opening the oven, reduce heat to 350 degrees F and bake another 8-10 minutes, or until pancakes are puffy.
Serve with powdered sugar and enjoy immediately!
More brunch recipes
Special brunch ideas
How to throw the perfect spring garden brunch
Brunch for dinner