Just because you have to work on Valentine's Day doesn't mean you have to go out. You'll have this fancy menu ready in less time than most restaurants can get you seated and fed.
You can make this simple Valentine's Day menu for your someone special in about an hour. Don't be intimidated by the number of ingredients. In fact, you can do some of the prep the day before if necessary. Just do all the cooking the day of!
It starts with a simple no-cook appetizer that leads into a meat and potatoes course and finishes with a sinfully simple couples dessert. This menu does everything but light the candles!
Creme de menthe mousse recipe
You'll need to start by making the dessert, as it needs some time to set. If you do this first, it will be ready to eat when you're done with your meal.
Serves 2
Ingredients:
2 cups whipping cream
1/3 cup refined sugar
1 ounce (2 tablespoons) creme de menthe
1/2 teaspoon vanilla extract
8-10 chocolate mint candies (we used Andes mints), finely chopped
Canned whipped cream
Directions:
Chill a large bowl and the whisk attachments of either a hand or stand mixer for at least 15-20 minutes.
Whisk whipping cream, creme de menthe and vanilla extract on high until the mixture begins to thicken.
Gradually add sugar until soft peaks form and the mixture starts to become glossy. Cover and refrigerate for at least 2-3 hours or overnight.
When you're ready to serve, top with mint candies and whipped cream.
Stuffed tomatoes Caprese recipe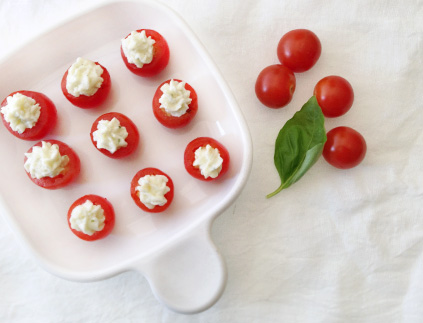 You can start the appetizer next (or even begin while the mousse is whipping). You can just pop them in the fridge until you're almost ready to serve them up. Pull them out about 15 minutes before dinner to let them come to room temperature.
Serves 2
Ingredients:
8-10 cherub tomatoes
8 ounces fresh mozzarella, shredded
3 tablespoons half and half
1 tablespoon ricotta cheese
1 teaspoon balsamic vinegar
2-3 fresh basil leaves, roughly chopped or torn
Lemon zest
Directions:
Slice off the tops of the cherub tomatoes. Using a paring knife and/or small melon baller, scoop out the tomato pulp and discard. Rinse the tomatoes and pat dry with a paper towel.
In a small bowl, marinate the tomatoes in balsamic vinegar.
In a food processor, combine mozzarella, ricotta, half and half, basil and lemon zest. Process until completely blended and creamy. Add additional half and half if necessary.
Fill a pastry bag with Caprese filling and pipe it into the marinated tomatoes. Refrigerate until ready to serve.
Onion-topped, peppercorn-encrusted filet mignon and Worcestershire reduction with ricotta mashed potatoes recipe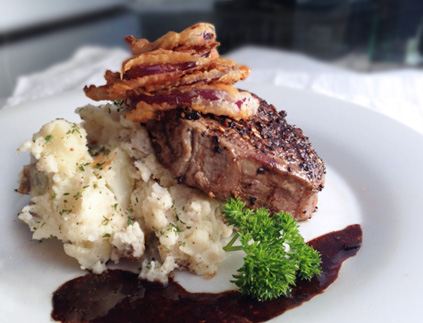 Now it's time for the main course. There are several elements to this dish, so read the ingredient lists carefully (we recommend getting all the ingredients ready in batches by element so you don't need to measure as you go).
The trick to this seemingly complex dish is combining simple elements to create the illusion of a five-star meal. You'll leverage your oven to babysit the steak while you make a simpler-than-it-tastes sauce and what are essentially onion rings. You'll set it all atop a mound of fancied-up mashed potatoes. The result will be an elegant meal he'd swear took you hours.
Serves 2
Ingredients: 
Filets:
2 (6-8 ounce) filet mignon steaks, approximately 1-1/2 to 2 inches thick
2 tablespoons peppercorns
2 teaspoons olive oil
1/2 teaspoon kosher salt
Worcestershire reduction sauce:
2 tablespoons unsalted butter
1/3 cup Worcestershire sauce
1/3 cup red cooking wine
1/2 teaspoon dried thyme
1/4 teaspoon kosher salt
Fried onions:
1/4 small to medium red onion
1/2 cup flour
1 egg
2 tablespoons milk
1/4 teaspoon paprika
Pinch of salt
Oil for frying
Ricotta mashed potatoes:
1 pound (about 2) russet potatoes, rinsed, scrubbed, peeled as desired and cut into 2-inch cubes
1/2 cup ricotta cheese
1/4 cup half and half
2 ounces Parmesan cheese, grated
2 tablespoons unsalted butter
1 tablespoon kosher salt
1 tablespoon black pepper
1 teaspoon garlic powder
Parsley for garnish
Directions:
Preheat the oven to 400 degrees F and begin boiling salted water for the potatoes.
Using a mortar and pestle or mallet, crush the peppercorns and combine with 1/2 teaspoon of salt on a cutting board or other flat surface. Spray the filets with cooking spray on both sides and press them firmly into crushed peppercorn and salt mixture, coating them thoroughly.
On medium-high heat using an oven-safe pan, heat 2 teaspoons of olive oil until simmering (approximately 3 to 4 minutes) and sear the peppercorn mixture onto the filets for 1 to 2 minutes on each side. Remove the pan from the stovetop and place it in the oven for 4 to 7 minutes or until steaks have reached desired doneness. Let them rest for 5 to 7 minutes.
Drop the potatoes into the boiling water and allow to cook until easily smashed with a fork.
While the steaks and potatoes are cooking, start the fried onions by cutting them into thin rings, making sure to remove the skin.
In a small container or bowl, beat together the egg, milk and salt. In a second container or bowl, mix the flour and paprika.
Dip the onions, a slice or two at a time, first into the egg wash and then thoroughly coat them in the flour and paprika mixture. (Note: Don't forget to check your steak and potatoes!)
Place coated onions into frying oil (enough oil to cover both sides of the onions) and let them fry until golden brown. Remove them from oil and place them on a paper towel to drain while you start the sauce.
In a medium saucepan over medium heat, melt the butter. Add thyme, salt, red cooking wine and Worcestershire sauce and continue to heat, stirring occasionally, until bubbling.
Reduce the heat and let simmer until the sauce has reduced by half. The sauce should easily stick to the back of a spoon.
Drain the cooked potatoes and allow them to sit for about 5 minutes in a medium bowl.
Gently mash and combine the potatoes with half and half, ricotta, butter, grated Parmesan, kosher salt, black pepper and garlic powder until they've reached the desired consistency.
To plate, pile the mashed potatoes on the center of the plate and set the filet on top, but slightly askew. Top the steak with the fried onions and spoon a small amount of sauce around each plate.
Garnish with chopped or whole parsley.
Note: Determine the doneness of the filets with a meat thermometer — rare steaks are between 120-125 degrees F, medium rare steaks are between 130-135 degrees F and medium steaks are between 140-145 degrees F. Filet mignon is best rare or medium rare.
More romantic recipes
Valentine's Day dinner for 2
Seductive Valentine's Day cocktail recipes
3 Easy Valentine's Day treats