Need the perfect cake for a last minute book club, PTA meeting, shower or birthday party? Look no further than this pistachio Bundt cake. It's made with Greek yogurt, cream cheese and pudding, which makes each piece melt in your mouth delicious.
This cake is made even better with a luscious cream cheese glaze, topped with crunchy pistachios. Even if you're not a huge pistachio fan, we know you'll fall in love with this cake!
Pistachio cream cheese Bundt cake
Recipe adapted from Duncan Hines
Serves about 10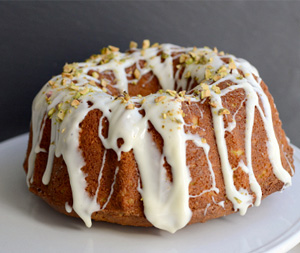 Ingredients:
For the cake: 
1 box yellow cake mix
1 3.4 ounce box pistachio pudding mix
4 eggs
1/2 cup plain Chobani Greek yogurt
4 ounces cream cheese
1/2 cup canola oil
1 teaspoon cinnamon
For the glaze: 
4 ounces cream cheese
1/2 cup powdered sugar
1 teaspoon vanilla
3 - 5 tablespoons light cream
Directions: 
Preheat the oven to 350 degrees F. Liberally grease a nonstick Bundt pan.
In a large mixing bowl, beat the cake mix, pudding, eggs, Greek yogurt, cream cheese, oil and cinnamon until fully mixed.
Pour the mixture into the prepared Bundt pan and smooth over with a spatula. Bake for about 45 - 55 minutes, or until a toothpick inserted in the middle comes out clean. Let cool completely before you remove from the Bundt pan.
While the cake cools, prepare the glaze by beating the cream cheese, powdered sugar, vanilla and light cream until a liquid glaze forms. Add the additional liquid if it is still too thick. Pour the glaze over the cake and serve.
More pistachio dessert recipes
Pistachio chocolate cookies
Creamy pistachio gelato
Creamy pistachio pudding recipe