It's officially football season! With the NFL playoffs and college championship games in full swing, football is all anyone can think of! If your house is where the game day parties take place, we've got the perfect dip to serve to your hungry football lovers! This cheesy lobster and kale dip is full of flavor and adds a unique dish to your typical finger foods!
Skip the Buffalo wings and the Velveeta and serve this gooey, cheesy, super decadent lobster dip at your next Sunday football party. After just one bite, this dip will instantly become a favorite. It's so good you'll want to eat it with a spoon! (We wouldn't judge you, in fact, pass us a spoon!)
Baked lobster, kale and Brie dip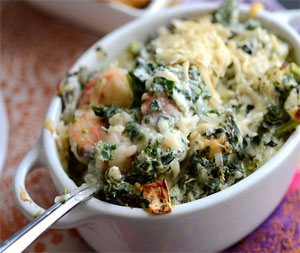 Recipe inspired by Clean Eating Magazine
Serves about 6
Ingredients:
About 2-1/2 cups frozen kale
1/2 cup shredded mozzarella cheese
1/4 cup plain 2 percent Chobani yogurt
1/4 cup light cream cheese
3/4 cup chopped cooked lobster meat
About 4 ounces Brie cheese, diced
1 tablespoon chopped chives
1/2 tablespoon lemon juice
Salt and pepper to taste
1/4 cup Parmesan cheese
Directions:
Preheat your oven to 375 degrees F.
Place the kale in a microwavable safe dish. Cook for 5 minutes on high. Remove from the microwave and stir to break up.
In a large mixing bowl, add the mozzarella cheese, yogurt, cream cheese, chives, lemon juice and salt and pepper. Using an electric mixer, beat until fully combined. Stir in the diced Brie, lobster meal and kale.
Scoop the mixture into an oven-safe, oval casserole dish. (We used this mini oval cocette from Le Creuset)
Bake the mixture for 15 minutes. Sprinkle the Parmesan cheese on top and bake another 5 minutes, or until the cheese is melted and the mixture is bubbly.
Serve warm with chips or bread.
More football party dips
2 Easy dips for your football party
3 Perfect party dips
Healthy Super Bowl dips