The warm, almost minty smell of rosemary brings new life to your boring vodka. You can use it for Bloody Marys, vodka tonics, vodka martinis and more.
Making rosemary-infused vodka couldn't be easier. All you need are the right ingredients and a little time and patience.
Rosemary-infused vodka recipe
Ingredients:
Desired amount of quality vodka
2 - 5 sprigs fresh rosemary
Directions:
In a sealable glass jar, insert the rosemary. The more vodka you're making, the more rosemary you should have. Generally, there's no need to use more than 5 sprigs, as you can simply allow it to steep longer to get the desired flavor.
Pour the vodka into the jar and seal.
Place the jar in an out-of the way location out of direct sunlight and allow it to steep for up to 5 days.
Taste the vodka after the first day (and each day thereafter), allowing it to steep until it's reached the desired rosemary flavor.
You can use the rosemary vodka to make a variety of drinks. We recommend this simple rosemary martini.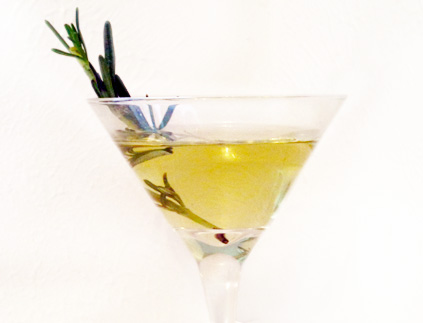 Simple rosemary vodka martini recipe
Serves 1
Ingredients:
2-1/2 ounces rosemary-infused vodka
1/2 ounce dry vermouth
1 fresh rosemary sprig (for garnish)
Directions:
Pour the vodka and vermouth into a mixing glass filled with ice cubes, cover and shake for 30 seconds.
Strain the cocktail into a chilled martini glass.
Garnish with a sprig of rosemary.
More recipes that can use rosemary vodka
Bloody biker recipe
Mediterranean Bloody Mary mix
Rita Collins recipe