If you're ever in doubt on what to make or bring for a cocktail party, a crostini is always the best way to go. Instead of the same old bruschetta, why not bring a batch of these elegant, chic and absolutely divine, spicy tomato, goat cheese and steak crostini? The perfectly cooked steak pairs beautifully with the spicy goat cheese, tomato spread and the crispy, crunchy baguette. You won't have any leftovers, trust us.
This elegant appetizer is the perfect hors d'oeuvre for your New Year's Eve bash or to serve before your big New Year's Day dinner. Or, you could make a batch tonight to eat for dinner. (We don't judge.) Just be sure to save a few for us!
Spicy tomato, goat cheese and steak crostini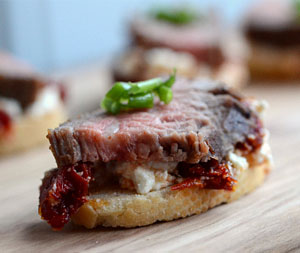 Recipe inspired by Steamy Kitchen
Serves about 8 
Ingredients:
1-1/2 pound flank steak
1 tablespoons crushed red pepper flakes
6 ounces soft goat cheese
6 ounces sun-dried tomatoes, chopped
Salt and pepper
1 tablespoon olive oil
8 slices of baguette
Chives for garnish
Directions:
Preheat the oven to 350 degrees F. Liberally rub the steak with salt and pepper.
Heat the olive oil in a large skillet over medium heat. Add the steak and cook until browned on both sides, about 8 minutes for a medium-rare inside. Remove from the heat and slice into thin slices.
To make the spread, mix the goat cheese, sun dried tomatoes and red pepper flakes together. Add salt and pepper. Spread the goat cheese mixture on the top of a baguette.
Bake for about 5 minutes, or until the bread is browned and the cheese mixture is warm. Top each piece of bread with steak and a few chopped chives.
More elegant appetizer recipes
Elegant holiday appetizers for easy entertaining
How to make any appetizer look gourmet
Rustic holiday baked brie recipe