Are you hosting all of your friends and family for New Year's this year? Don't stress about what to serve and forget about buying those giant boxes of weird hors d'oeuvres at Costco. This year, make your own signature dish with this gooey, cheesy and surprisingly lower fat Gruyere bacon jalapeño dip! Served with crispy baguettes, this dip is easy to make and will wow everyone... even your snobby neighbor.
This gooey dip looks like it has 10,000 calories, but don't worry, one serving has less than 100! Since it's made with fat-free Greek yogurt in place of mayonnaise, you are still getting the creamy texture and flavor you love, without all those calories. Because you know what doesn't go well with that sparkling mini skirt? A bloat.
Hot Gruyere, bacon and jalapeño dip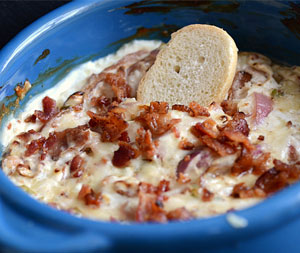 Recipe inspired by My Recipes
Serves about 6
Ingredients:
2/3 cup nonfat Chobani Greek yogurt
1 tablespoon olive oil
3 cups sliced red onions
3 ounces shredded Gruyere cheese
Salt and pepper
4 slices of bacon, cooked and chopped
2-1/2 tablespoons chopped jalapeño
Directions:
Preheat the oven to 400 degrees F.
Heat the oil in a small skillet over medium heat. Add the onions and cook until translucent, about 4 minutes. Reduce the heat to low and let it cook until completely caramelized, about 10 more minutes. Remove from the heat and place into a small baking dish. Stir in the Greek yogurt, jalapeños, and 3 slices of chopped bacon. Stir in about 2-1/2 ounces of cheese.
Sprinkle the remaining cheese and remaining piece of bacon on top of the onion mixture.
Bake for about 15 minutes, or until the cheese is bubbly and browned on the sides. Serve with baguette slices and enjoy!
More New Year's appetizers
3 New Year's Eve appetizer recipes
New Year's appetizer trends: Pate recipes
3 Money saving appetizers