We bet you are scratching that little noggin of yours after reading the headline, and can totally understand. Onions, in a cheesecake? Have we lost it? No, not yet. Before you write this off, give it a try for New Year's Eve. The perfectly portioned cheesecakes make perfect spreadable appetizers for your favorite crackers or bread. The savory mushrooms and onions pair perfectly with the goat and cream cheese. After one bite you'll wonder why you didn't make a savory cheesecake before!
These mini appetizers are perfect for your vegetable platter and can be served warm and gooey or chilled. However, don't be surprised if your guests just grab a fork and dig right in, these decadent cheesecakes are just that good.
Savory onion cheesecakes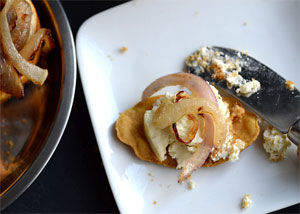 Serves 6
Ingredients:
For the crust: 
3/4 cup graham crackers
1/4 cup chopped nuts
1 tablespoon melted butter
Dash of salt and pepper
For the filling: 
4 ounces light cream cheese
5 ounces soft goat cheese
1 egg, lightly beaten
1 1/2 tablespoons butter
1 medium yellow onion, sliced
1 medium red onion, sliced
3 cloves garlic, chopped
2 tablespoons chives
Directions: 
Preheat the oven to 350 degrees F. Grease a mini cheesecake cavity pan with nonstick cooking spray and set aside.
In a large bowl, mix the graham crackers, nuts, melted butter and salt and pepper. Press the crust into the bottom of the cheesecake pan with a spatula.
In another large bowl, beat the cream cheese, goat cheese, egg and chives together until creamy. Pour the cheese mixture over the crusts evenly and smooth with a spatula. Bake for 15 minutes or until puffed. Remove from the oven and let chill for about 5 minutes.
To make the caramelized onions, heat the butter in a large pan over medium-high heat. Add the sliced onions and garlic and reduce the heat to medium. Cook the onions until browned and very soft, about 12 minutes.
Garnish each cheesecake with onions and the garlic mixture. Serve immediately.
More New Year's appetizer recipes
Fabulous foods for your New Year's Eve party
3 New Year's Eve appetizer recipes
Mini appetizer Reuben sandwiches