Before you write off yet another cupcake recipe, give us a second to explain why you need to make these Almond Joy treats immediately. For one, they taste exactly like the candy bar, just fluffy and with tons of icing. Secondly, each coconut bite reminds you of the warm, sunny beach. Third, these mini sweets are extra rich because they are filled with coconut cream! Convinced yet?
Each mini cupcake is filled with a luscious coconut cream filling and then topped with sweetened coconut flakes and a chocolate covered almond. Who needs (or wants) a boring candy bar when you can have mini cupcakes instead!
Mini Almond Joy cupcakes
Recipe adapted from Taste and Tell Blog.
Yields about 24 cupcakes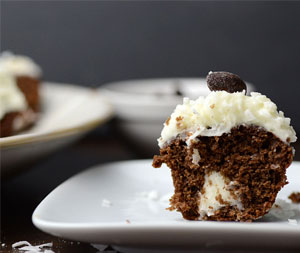 Ingredients:
For the cupcakes: 
1-1/3 cups all-purpose flour
1/4 teaspoon baking soda
2 teaspoons baking powder
3/4 cup unsweetened cocoa
Dash of salt
4 tablespoons of butter
1 cup white sugar
1/2 cup brown sugar
2 eggs
1/2 teaspoon vanilla
1/2 teaspoon coconut extract
1 cup coconut milk
For the filling: 
2 tablespoons melted butter, softened
1/2 teaspoon coconut extract
About 1 cup powdered sugar
2 tablespoons coconut milk
For the frosting: 
1 cup butter, at room temperature
3 cups powdered sugar
1/3 cup reduced coconut milk
1/4 teaspoon coconut extract
Coconut flakes for garnish
24 dark chocolate almonds
Directions:
Preheat the oven to 350 degrees F. Grease a mini muffin tin with nonstick cooking spray and set aside.
In a large bowl, mix the flour, cocoa powder, baking soda, baking powder and a dash of salt. Set aside.
In another bowl, beat the butter, white sugar, brown sugar, extracts and eggs together until creamy. Stir in the coconut milk by hand. Add the dry mixture to the wet mixture in 1/2 cup increments, stirring after each addition until mixture is fully combined.
Fill each cavity with batter until filled about 2/3 the way full. Bake the cupcakes for about 15 minutes, or until completely browned. Let cool on a wire cooling rack completely.
Once cooled, cut out a cone shape in the center of each cupcake (from the bottom). Remove the cone and keep the top of it. Set aside.
In a large bowl, prepare the filling by beating the butter, coconut extract, powdered sugar and coconut milk together with a handheld mixer. Place about 1/4 - 1/2 teaspoon or so of the filling into each cupcake. Place the cone top over the filling.
To make the frosting, mix the butter, sugar, coconut milk and extract together. Frost the tops of each cupcake. Then, while the frosting is sticky, garnish liberally with coconut flakes. Top with the chocolate covered almond and serve!
More mini dessert recipes
Mini cannoli cups
Mini roasted cherry cheesecakes with chocolate glaze
Mini cookie dough layered cakes