Cooking the Christmas ham doesn't have to be the pain you always think it is. Whether you like it with pineapple, mint jelly or just glazed, you can cook it to juicy perfection.
A Christmas ham isn't just a holiday tradition, it's an investment in the week-after-Christmas bag lunches and late-night snacks. Make sure your ham is perfect this year by cooking it to perfection.
Choosing your ham
First, decide whether you want a ham or a gammon. A ham is a whole, untreated leg. You'll have to do the brining yourself. A gammon, on the other hand, is a piece cut from a cured leg. We recommend a gammon. While it's great to brine your own turkey so you can add any flavors you'd like, curing your own ham is a bit harder, as you have to be careful to choose exactly the right combination of flavors (and use exactly the right amount of salt) to complement ham's naturally salty flavor.
If you do opt for a ham, you'll need to start brining several days before. If you go for a gammon, ask your butcher whether the ham should be soaked before cooking. While most pre-cured hams are made to be cooked immediately with no preparation, hams cured by your butcher may be meant for soaking. Either way, you should let it sit at room temperature for about 1-1/2 hours before cooking.
Glazing the ham
Before you glaze the ham, remove the skin and remove all but about 1/4-inch of fat (you'll need some of the fat to hold in the moisture). Then score the meat, making sure to cut all the way through the fatty layer.
The glaze is what sets a Christmas ham apart from an everyday ham. Make it special! Whether you prefer a mustardy or sweet glaze, this is the time of year to try something fun. Use your own traditional glaze recipe or try one of the recipes we've collected below.
Cooking the ham
Now, you'll notice the title of this article says "how to cook the perfect Christmas ham." That's because most people are tempted to simply bake it. That's wrong! You need to poach it. Poaching actually imbues the ham with extra flavor.
You can use just about anything liquid to poach the ham. You will find recipes containing everything from ciders or wines to fruit juices or colas. Simply mix your poaching liquid and pour it into a medium-depth roasting pan placed on the bottom rack of the oven. Place the glazed ham fat-size up (cut-side down) in a baking rack above the pan and bake until done.
How long you cook the ham depends on what kind you get. For an uncooked ham, preheat the oven to 325 degrees F. Bake it until a roasting thermometer inserted into the deepest part (not touching any bone) reads the proper temperature (see chart below).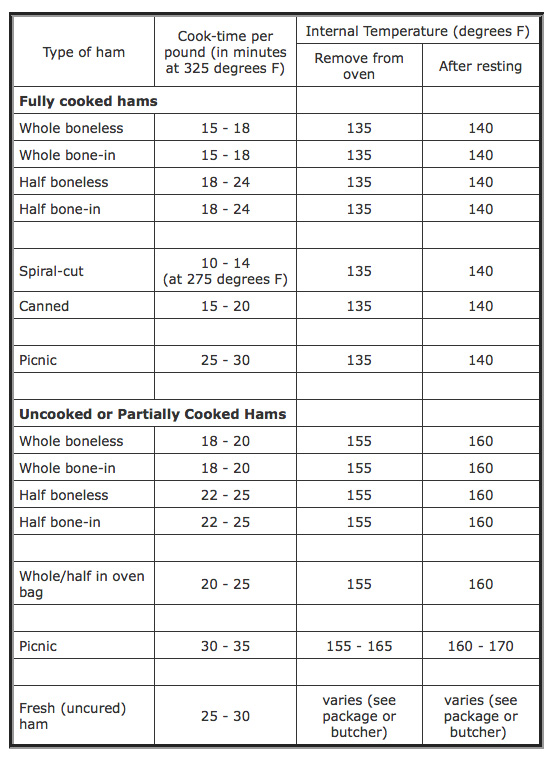 Ham glaze recipes
Glazed ham with pineapple and cloves
Baked ham with honey apricot glaze
Baked ham with maple glaze