The holiday hostess doesn't need another apron or run-of-the-mill bottle of wine. Instead, give your favorite entertaining pro a gift she'll love and actually use. Check out these practical holiday hostess gifts.
You're So Invited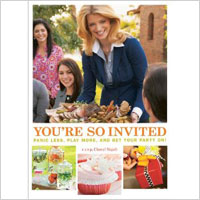 Does the hostess on your gift list dream of the day she feels like a seasoned entertaining pro that never breaks a sweat? Help her dream come true with Cheryl Najafi's book You're So Invited: Panic Less, Play More, and Get Your Party On. Najafi inspires hostesses to infuse their own personal style, humor and whimsy into every occasion. She shares a fresh approach to entertaining so the hostess can actually relax and enjoy her soirees. You're So Invited includes: tips on buying the right quantity of food and drink ingredients, order-in dishes, outdoor entertaining, decor, fun DIY party projects and even no-cook appetizers to make every entertaining opportunity an impressive pleasure.
Enrico Root Wood Platter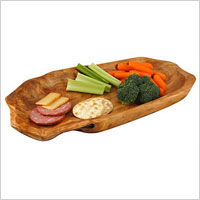 For the green-conscious hostess, the Enrico Wood Platter is a unique and eco-friendly gift that is stylish and functional. Each platter is hand-carved and easily stands alone as a natural work of art, yet can be used for serving appetizers or part of the main meal. Platters are carved from a sustainable species of Chinese Fir called Shan Mu, which grows abundantly in the mountains of central China. The stumps left by logging are reclaimed prior to replanting and hand-carved by local artisans into the shapes in the Enrico collection. They are beautiful and practical items that bring their own unique organic charm into the home.
Harry & David Wooden Truffle Placecard Set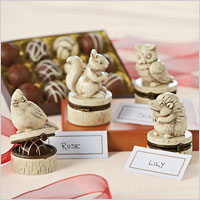 Your favorite hostess will love setting the table with Harry & David's adorable woodland critter place holders that each hides a decadent chocolate truffle, which is sure to bring a smile and perhaps groans of chocolate-loving pleasure from every guest at the table. These endearing ceramic place card holders come in a set of 8 — however, the set includes 12 signature truffles, since no hostess will be able to resist nibbling a couple of truffles before the guests arrive.
Numi Organic Tea Artisans Blending Kit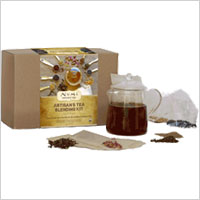 If your hostess enjoys being zen, she'll love this inspired Numi Artisan's Tea Blending Kit which will let her create unique blends, discover new tastes and relax any time of the day. Packaged in a reusable craft box, the kit contains a total of 10 teas (black, green, white and rooibos), herbs, fruits, flowers and spices, plus 20 biodegradable tea sacs, recipe guide and a glass teapot.
Norman Love Confections Candy Cane Chocolate Gift Box
(Norman Love Confections, $25)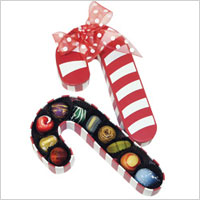 A box of chocolate from Norman Love Confections is far from ordinary. The Candy Cane Chocolate Gift Box is not only uniquely shaped, it is filled with stunningly gorgeous chocolates that look too pretty to eat. Your lucky giftee will get to sink her teeth into white, milk and dark chocolate artisanally-crafted confections exuding the flavors of the season. Gourmet chocolates include apple cider, cranberry orange, hot cocoa, gingerbread, candy cane and more.
Wines That Rock Holiday Rock Star Special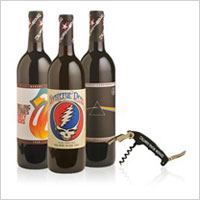 Do you have a hostess with the mostess that is also a wannabe rock star? Surprise her with the Wines That Rock Holiday Rock Star Special, featuring three great tasting wines inspired by music from renowned artists. Wines include Rolling Stones Forty Licks Merlot, Pink Floyd The Dark Side of the Moon Cabernet Sauvignon, and Grateful Dead Steal Your Face Red Wine Blend. The set also comes with a Wines That Rock corkpuller. For the ultimate hostess gift, include an iTunes gift card with a suggestion she download all of her favorite rock tunes to listen to as she sips her wine.
Method Holiday Frosted Fir Dish Pump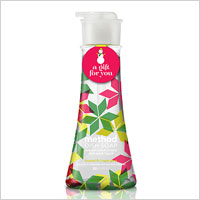 Every hostess appreciates a little help in the kitchen. The Method Holiday collection will brighten up dishes and keep hands germ-free with the scents of the season. The dish pump is decorated for the season and pretty enough to keep on the counter as part of the seasonal decor. In addition to making clean-up more merry, Method products are made with a natural, biodegradable formula that is tough on grease but easy on the environment. Show your favorite hostess extra love by pairing the Frosted Fir Dish Pump with Method Gingerbread Foaming Hand Wash or Method Sugared Mint Gel Hand Wash.
Pampered Chef Drink It Up Itty Bitty Bevs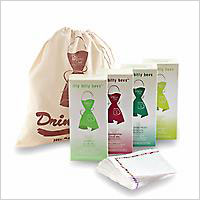 A bane of any hostess is being able to expertly juggle taste testing, mingling and mixing drinks without packing on the pounds or getting a tad too tipsy while entertaining. The solution? The Itty Bitty Bevs Kit, which comes with lower-calorie, stevia-sweetened drink mixes for appletinis, cosmopolitans, cucumber mojitos, and margaritas that only ring in at 90-calories per serving and can be deliciously enjoyed as guest-pleasing cocktails or hostess-friendly mocktails stirred with water or club soda. The kit comes with four drink mixes and 20 napkins all neatly tied up in a muslin bag.
Mighty Nest Pampering Gift Set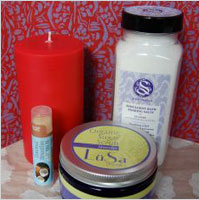 The most practical hostess gift is the one that allows that hostess to kick her feet up and relax after a long day of entertaining. The Mighty Nest Pampering Gift Set will lure her to a hot bath where she can let the tension of the day melt away. She can breathe deep with the lavender and eucalyptus bath soaking salts and gently slather herself with the organic sugar scrub while sinking into the tub next to a clove and vanilla scented candle. When she's done, she can moisturize her lips with the vegan lip balm and toss it into her purse for day-long lip protection.
More gourmet gift ideas
Gifts for chocolate lovers
Gourmet gifts for couples
Kitchen gadgets for foodies