Chances are, you probably have an amazing recipe for banana bread that has been passed down five generations in your family. As good as it is, we're going to urge you to try this boozy banana bread recipe. For one, it's made with spiced rum. Two, it has a buttery rum glaze drizzled over the top of it. Double the booze, double the amazing flavor. This bread will easily get you through any stressful situation (like a holiday gathering at your in-laws house).
Grandma's traditional banana bread is good, but this is boozy, which instantly makes it a little better. Not only that, the spice in the rum gives each bite an extra flavor boost. Paired with the perfect rum glaze and a tablespoon of butter, you have the world's best breakfast. And since you already have rum in your bread, we won't judge if you add a little rum to your breakfast drink too.
Boozy banana bread
Serves about 8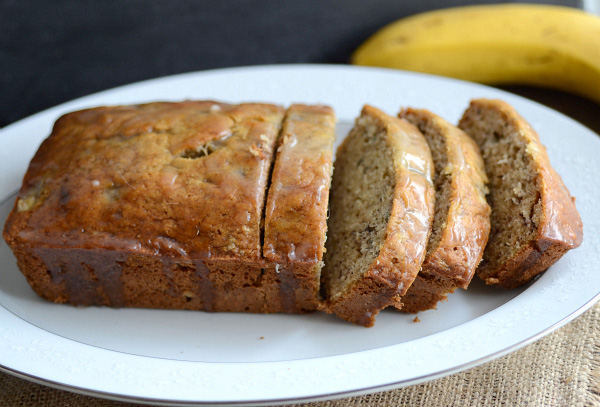 Ingredients:
For the bread: 
1-2/3 cup bread flour
1 teaspoon baking soda
Dash of salt
1/2 cup brown sugar
1/2 cup white sugar
3/4 tablespoon pumpkin pie spice
2 eggs
1/4 cup canola oil
1/4 cup unsweetened applesauce
3-1/2 very ripe bananas, mashed
2 tablespoons Greek yogurt
1 teaspoon vanilla extract
2-1/2 tablespoons Captain Morgan spiced rum
For the glaze: 
3 tablespoons melted butter
1-1/2 tablespoons Captain Morgan rum
1/3 cup sugar
1-1/2 tablespoons water
Directions: 
Preheat the oven to 350 degrees F. Grease a standard size loaf pan with cooking spray and set aside.
In a large mixing bowl, mix the flour, baking soda, pumpkin pie spice and salt. Make a well in the center of the mixture.
In another bowl, whisk the canola oil, applesauce, ripe bananas, Greek yogurt, vanilla and spiced rum. Pour the wet mixture into the well of the dry mixture and mix until fully incorporated.
Pour the mixture into the prepared baking dish and bake for about 40 minutes, or until golden brown. Let the cake cool on a wire cooling rack when done.
To make the glaze, place the melted butter, rum, sugar and water in a medium-size saucepan. Bring the mixture to a boil and then simmer until the sugar is dissolved and the mixture is thick, about 4 minutes.
Once the banana bread has cooled, drizzle with sauce and enjoy!
More boozy recipes
Boozy pumpkin pie milkshake recipe
Boozy bacon recipes
Boozy caramel apple ice cream