Do you have a few sweet potatoes, some leftover turkey and cranberry sauce in your fridge? Instead of letting it go to waste, create a unique and inspiring meal with your leftovers with this recipe! Baked sweet potatoes filled with leftover turkey, arugula and cranberry make the perfect leftover meal that isn't tired or overdone.
The tartness of the cranberry sauce pairs perfectly with the fresh crunch of the arugula leaves and the soft, mashed potatoes inside. Plus, the addition of the turkey gives this meal the perfect protein boost making it easier on your waistline after all that gorging.
Turkey, arugula and cranberry stuffed sweet potatoes
Serves 2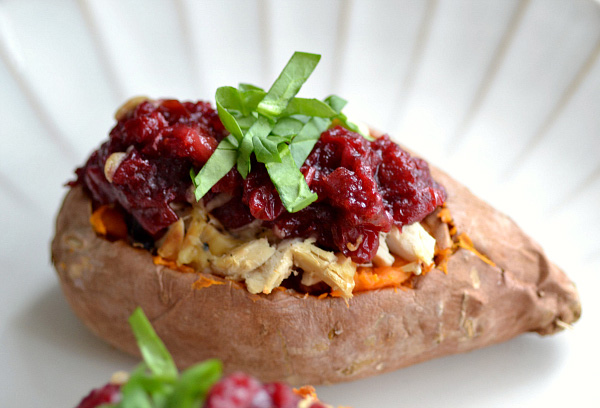 Ingredients:
2 large sweet potatoes
2 tablespoons butter
3 - 4 tablespoons heavy cream
3/4 cup shredded turkey
2 tablespoons shredded white cheddar cheese
3 tablespoons homemade cranberry sauce
2 tablespoons chopped arugula
Salt and pepper
Directions: 
Preheat your oven to 400 degrees F. Prick the potatoes with a fork to allow ventilation and bake for 45 - 60 minutes, or until soft. While the sweet potatoes are still soft, cut the potatoes lengthwise and scoop out the insides (carefully not to break the skin) and place in a mixing bowl.
Add the butter and cream to the potatoes and mash with an electric mixer until smashed. Add the salt and pepper to taste.
Scoop about 2 - 3 tablespoons of mashed sweet potatoes back into the potato skin. Place the turkey on top of each potato and sprinkle the cheese over the turkey. Place in the oven and bake for about 5 minutes, or until the cheese is melted. Remove from the oven.
Scoop the cranberry sauce over the turkey and garnish with arugula. Serve immediately and enjoy!
More Thanksgiving leftover recipes
The best Thanksgiving leftover recipes
Putting Thanksgiving leftovers to the best use
Turkey casserole recipe