There's nothing like a warm, cozy cocktail to warm you up during the chilly fall and winter months. This holiday season, take those cozy cocktails up a notch by adding some spicy elements, like hot peppers, green chiles and even Sriracha! By the time you're done with one of these spicy cocktails, you'll be sweating!
From a super-spicy, bacon Bloody Mary to a spiced rum cocktail, these drinks will instantly make you feel the warm and fuzzies — even on the coldest of days. Oh, and don't think it's too cold for this margarita! It's spiced up with Sriracha, which will warm you up while you drink it. Just be warned, two of these are very hot so proceed with caution!
Spicy bacon Bloody Mary
Serves 1
Ingredients: 
1 can diced tomatoes with green chiles (not drained)
2 teaspoons Worcestershire sauce
1/2 red bullet chili with seeds, chopped
Dash of lime juice
1/3 cup bacon (or pepper) vodka
Marinated cremini mushrooms for garnish
Bacon slices for garnish
Directions: 
Place the tomatoes, Worcestershire sauce, chili, lime juice and vodka in a blender. Pulse on medium until the mixture is silky smooth. Add the salt and pepper to taste. If the mixture is thick, add a bit of water to thin it out.
Garnish with the mushrooms and bacon. Enjoy!
Spiced apple cider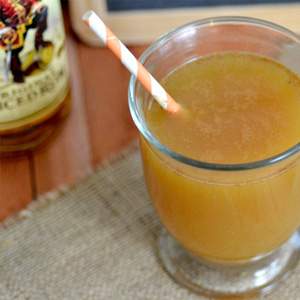 Yields about 1 quart
Recipe adapted from All Recipes
Ingredients:
2 tablespoons brown sugar
1/2 teaspoon whole cloves
1/4 teaspoon nutmeg
1 cinnamon stick
Dash of salt
1/2 - 3/4 cup Captain Morgan spiced rum
3 cups apple cider
Directions: 
In a large pot, add the apple cider, brown sugar, cloves, nutmeg and cinnamon stick. Bring the mixture to a boil and reduce the heat to low. Simmer for about 5 minutes, or until the spices have dissolved into the cider. Remove from the heat and add in the rum (1/2 cup for less strong and 3/4 cup for strong). Serve warm and enjoy!
Strawberry Sriracha margarita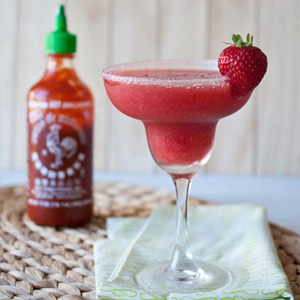 Serves 2
Recipe adapted from Jackie of Domestic Fits
Ingredients:
2 cups frozen strawberries
1/2 cup tequila
1/4 cup orange-flavored liquor
1 tablespoon sugar
3/4 - 1 teaspoon Sriracha
1 cup ice
Directions: 
Add all of the ingredients in a blender and pulse on low until smooth. Serve in a margarita glass and enjoy!
More cocktail recipes
Elegant cocktail recipes for entertaining
Boozy pumpkin pie milkshake recipe
Fall cocktails