What would Christmas be without cookies? We send them to loved ones and leave them for Santa; host cookie swaps and decorate them with our kids. This year, get in the holiday spirit with the best Christmas cookie recipes out there.
We all have our tried and true cookie recipes, some of which have been passed down for generations. But this year try out a few batches of these stellar Christmas cookies; you may just find a new favorite.
Photo courtesy Manu's Menu
Christmas tree ornament sugar cookies
When we think of Christmas cookies, often it's brightly colored, decorated ones that come to mind. These Christmas tree ornament sugar cookies from Manu's Menu fit that bill, and she offers a simple tutorial on how it's done. She even pokes a little hole in the top before baking so the cookies can actually double as ornaments if you like.
Photo courtesy of Kitchen Parade
No roll sugar cookies
If rolling out all those sugar cookies seems too daunting, then check out this brilliant recipe for no roll sugar cookies from Kitchen Parade. Simply make the dough, roll into balls and press down gently before baking. No rolling and no chilling required, plus you can decorate them with festive sprinkles for a colorful and no fuss cookie plate.
Photo courtesy of Oh Cake
Chocolate chip peppermint pinwheel cookies
As Jessica Hose, author of the blog Oh Cake says, "Chocolate and peppermint go hand-in-hand with the Christmas season like stockings hung by the fire and twinkling lights on the Christmas tree." How true it is, and these chocolate chip peppermint pinwheel cookies from Oh Cake are a perfect example of the flavors of the season, wrapped up — literally — into one cookie.

Photo courtesy of The Girl Who Ate Everything
Eggnog cookies
Eggnog may be the official beverage of Christmas, but having it in cookie form is a revelation. This eggnog cookies recipe from The Girl Who Ate Everything transfers the flavors of eggnog (as well as some actual eggnog) into cookie form. They're soft and chewy and perfect for the holiday season.
Photo courtesy of Kitchen Riffs
Cherry winks
For a retro spin to your cookie plate, check out these classic cherry winks from Kitchen Riffs. Flavored with pecans, dates and maraschino cherries and coated in crunchy cornflakes, they're a delicious throwback to the 1950s. Plus, they're drop cookies so all you have to do is mix up the dough and drop it on a baking sheet. The finishing touch, a maraschino cherry in the center, looks like Rudolph's nose.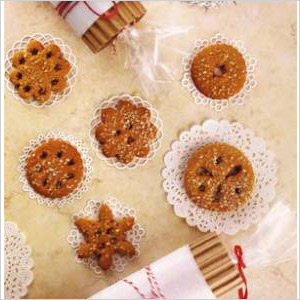 Gluten-free allspice gingerbread cookies
Those looking for a gluten free Christmas cookie option, look no further than this simple riff on classic gingerbread from Fabulous Foods. Cut them out in any shape and size you like to make gingerbread men, the walls of a gingerbread house or dainty round gingerbread cookies.
Tip: Don't leave all your holiday baking to the last minute! Spread it out over a week or so and it'll be a lot more fun.
More Christmas cookie recipes
3 Christmas cookie recipes
Christmas and holiday cookie pops
50+ Christmas cookie recipes