This Thanksgiving, add a little festive flare and a personal touch to your tabletop with these great finds from Etsy. From handcrafted fall napkin rings to unique silver-plated serving sets, there's something to suit every taste and budget.
Whether you want to outfit your own home or bring a thoughtful hostess gift to Thanksgiving dinner, check out our favorite Etsy finds for Thanksgiving. From handmade and elegant to vintage and downright kitschy, we love browsing this fun site for its fabulous finds.
Linen napkins
For a tasteful reminder of what this holiday is all about, set the table with this beautiful set of six linen napkins embroidered with "give thanks" in pretty black type. We love the natural but sophisticated look and meaningful message that can also be a great choice year-round. They even get softer and more beautiful the more you use them.
Our pick: Thanksgiving linen napkins (betsygrace, $72)
Tip: Using cloth napkins and napkin rings immediately makes your holiday table look fancier and more festive, and requires little extra work!
Autumn napkin rings
Fill your Thanksgiving table setting with even more holiday cheer with this set of four festive autumn napkin rings. We love that the ring itself resembles natural vine, and the fall-colored hydrangea blossom with miniature pumpkin in the center perfectly sets the tone for a harvest feast. The little "pumpkin" in the middle is actually a dried putka pod and makes for an extra special touch.
Our pick: Handmade Autumn napkin rings (wishdaisy, $40)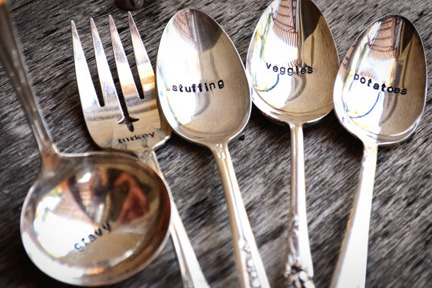 Thanksgiving serving set
We love this vintage silver-plated serving set, which comes with three serving spoons, gravy ladle, and serving fork. Simultaneously elegant and whimsical, each piece has been hand stamped with a label: turkey, veggies, potatoes, stuffing and gravy. They would make a lovely addition to any holiday meal.
Our pick: Silverplated Thanksgiving serving set (pumpernickelandwry)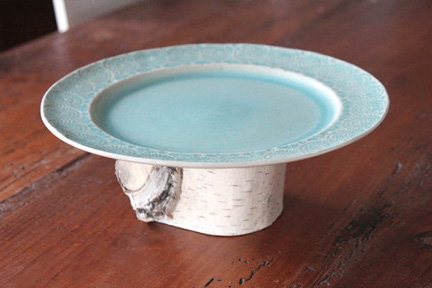 Birch pedestal plate
Bring the outdoors in with this elegant pedestaled serving plate. It's a super creative and unique design with a ceramic place attached to a beautiful piece of birch. Although not specifically Thanksgiving themed, we think it would make a beautiful statement on the dinner table, and can be used to serve anything from appetizers to desserts.
Our pick: Birch pedestal plate (SimplySofie, $65)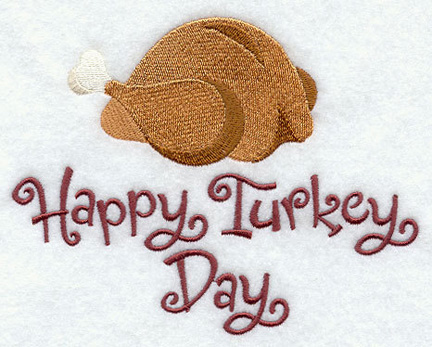 Embroidered dish towel
To bring some holiday spirit to your kitchen, check out these flour sack hand/dish towels that are hand embroidered with a turkey and "Happy Turkey Day." Choose a color of your choice, and even get matching embroidered aprons (or just about anything else!). Check out the seller's store for lots of other Thanksgiving-themed designs as well.
Our pick: Happy Turkey Day Thanksgiving Embroidered Flour Sack Hand/Dish Towel (EmbroideryEverywhere, $13.99)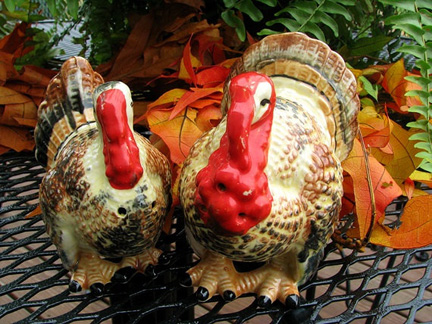 Vintage salt and pepper shakers
Although a little on the kitschy side, we love these vintage turkey salt and pepper shakers that double as table decorations. Whether you collect salt and pepper shakers or just want to add a little Thanksgiving whimsy to your meal, everyone will enjoy passing the salt and pepper around if you use these cute containers. Gobble gobble!
Our pick: Vintage turkey salt and pepper shakers (GreenPlanetSisters, $11)
More Thanksgiving
Thanksgiving dessert recipes
Elegant Thanksgiving table ideas
Planning Thanksgiving for two