The table is the first thing guests see when they prepare to eat, so it's important to decorate it impressively. Everything from napkin rings to place card holders to the centerpiece must be considered; here are some ideas for each.
Napkin rings
By picking buttons with fall colors, you can easily make napkin rings like the ones found on CopyCat Crafts. It might get a little tedious, but they're lovely and would make a fun take-home gift for your guests. Not crafty? No worries! You can buy a set from Casa for $12 (shown below).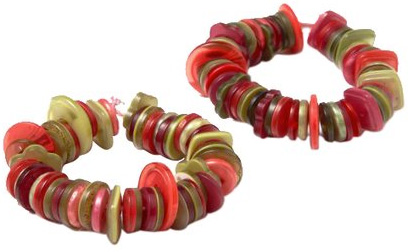 Staying true to the fall theme, it's easy to use fall-hued leaves to spruce up your place settings. Simply slip a few oak or maple leaves into your favorite wood napkin rings for an instant holiday makeover. If you're worried real leaves will get messy, pick up a set of four Cloissone Maple Leaf Napkin Rings from Williams-Sonoma for $40.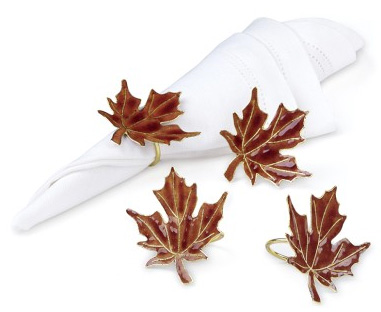 One final set of napkin rings comes from Pottery Barn. Though it may seem a bit macabre, it's a fun way to avoid a fight over who gets the Thanksgiving wishbone! Pick up a set of four for $40.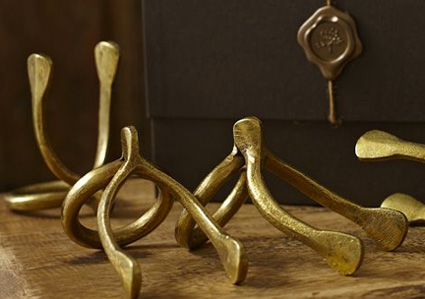 Place card holders
This classy idea for a place card holder comes from Country Living. Each name is attached to a pear (or apple, if you prefer) with a pin, and it's as easy as that!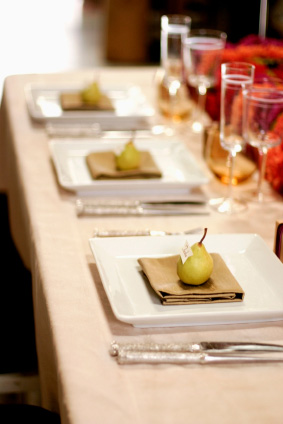 Need a simple, DIY place card setting that's quick, beautiful and inviting? Try wrapping up several cinnamon sticks with twine or raffia and slip a piece of colored cardstock in between the sticks with each guests' name. Not only is this idea super-cute, it smells great, too!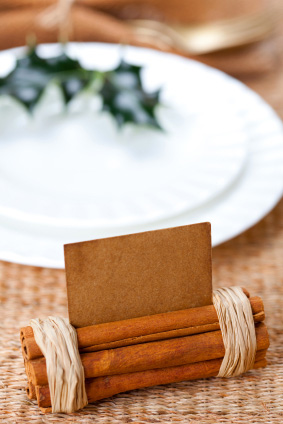 It's pretty impossible to go wrong when you decorate with leaves. For a DIY place card idea, Martha Stewart offers a simple solution, but if you're not feeling crafty, pick up a set of four Classic Maple Leaf Place Card Holders from Advantage Bridal for $7. They might be intended for weddings, but we think they're made for Thanksgiving!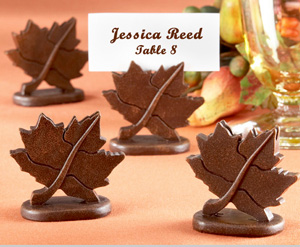 Centerpieces
Choose your color scheme, then build your elegant centerpiece around that scheme.
Deep fall colors like burgundy and mahogany make grapes an excellent choice as an easy and elegant centerpiece. We love this centerpiece featured on Martha Stewart that pairs brown pillar candles with an abundance of red and purple grapes. Bonus: It's almost entirely edible!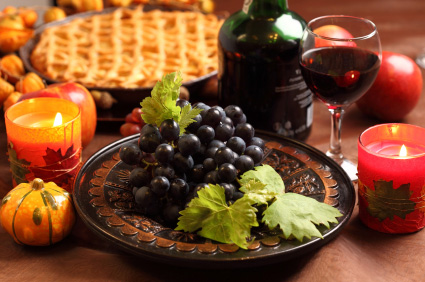 To brighten up your fall table, gain inspiration from brighter fall produce, like artichokes and pomegranates. Shelterness has even inserted flowers and candles into seasonal produce for a classic and beautiful effect made brighter with pumpkins, gourds and purple cabbage.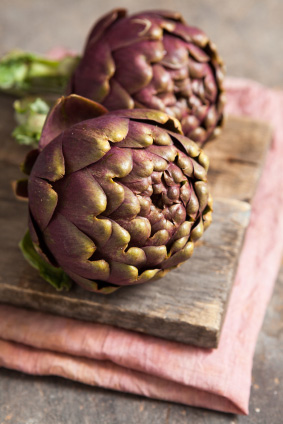 One final Thanksgiving idea from the guru that is Martha Stewart involves an arrangement of grains and grasses. If large, expansive centerpieces are what you like, ears of colored corn with the husks still attached might be lovely as well. If you don't have the time to make your own, you can order a Dried Wheat Bundle Centerpiece with Ribbon (shown below) from Plow and Hearth for $50.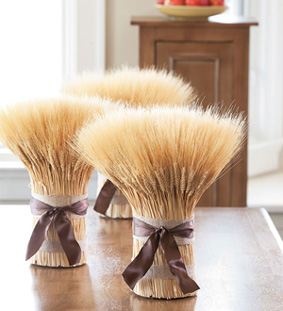 Regardless of how you decorate your Thanksgiving table, as long as you put in some personal touches, it will undoubtedly be lovely to behold!
More Thanksgiving
Thanksgiving Etsy finds
Thanksgiving decorating ideas
Reasons it's okay not to serve a turkey