The arrival of Thanksgiving often means one must prepare his or her home for a number of guests, and that means that some festive decorating should take place. Here are some ideas ranging from the easily homemade to the fine and fancy.
One of the most popular ways to decorate for Thanksgiving is to make use of fall produce and nature's bounty.
Displaying nature's bounty
The cornucopia (or horn of plenty, as it's sometimes called) is a traditional piece of Thanksgiving decor. It can be fashioned out of just about anything, from wood to gourds to metal. Further, you can fill it with whatever you feel inspired to include, whether it be produce, flowers, nuts or even fall-themed candy.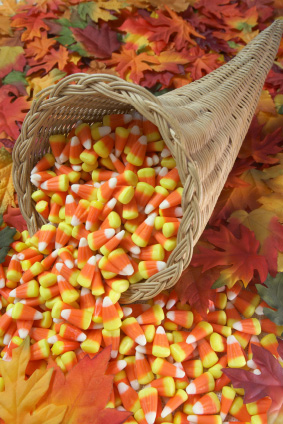 Another centerpiece drawing on the goodness of nature is one made from cobs of Indian corn. It's extremely simple to fashion a centerpiece yourself and showcases all the gorgeous colors of fall. We love this idea by Fresh Home Ideas.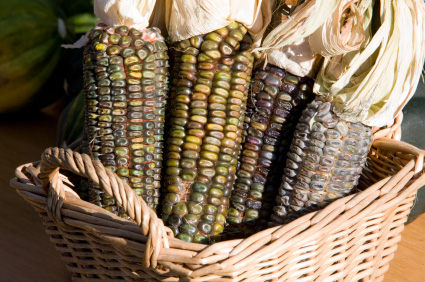 Leaves are nothing if not abundant during the Thanksgiving holiday, so why not use them in a stylishly decorative manner? By scattering them around or hanging them from your light fixtures, you can easily bring the hues of autumn into your home.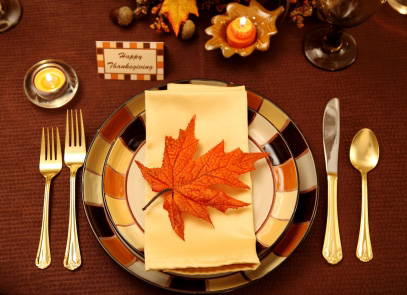 One more way to utilize the innate beauty of the changing colors of fall is to make a wreath. You can use leaves, fall fruit or even Indian corn, as shown on Shelterness, to create a welcoming adornment on your door.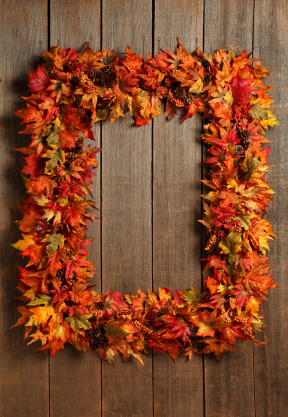 Pumpkins and gourds are bountiful during the Thanksgiving season, so it's easy to use them as holiday decor. Simply place them in groupings on tables, shelves and even your front porch. To make them even more inviting, add candles for ambiance. Want to get really crafty? Use small pumpkins as votive candle holders by hollowing out a space, then display the pumpkins on broken rakes hung on your wall, as demonstrated by Better Homes and Gardens.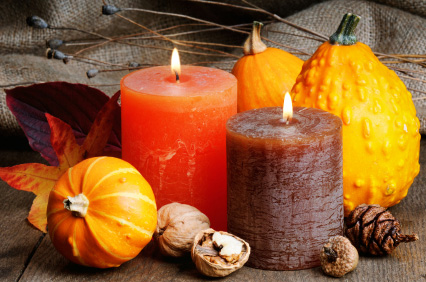 DIY crafts
What if you don't necessarily want to bring the outside in to decorate your home? Here are a few more ideas for you.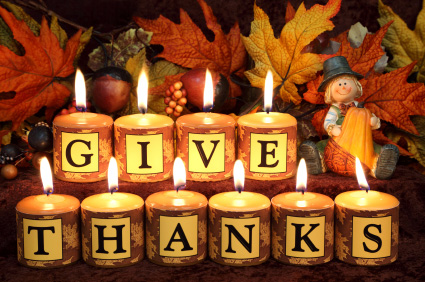 Candles are an easy way to create a quick and simple centerpiece without hauling in leaves or branches from the outdoors. Try wrapping candles with printed letters to spell out a phrase, like "Giving Thanks," or place a few candles in clear vases, surrounding them with corn or candy corn.
Another easy way to decorate with candles is by wrapping hurricane glasses with tissue paper in fall colors. Martha Stewart shows exactly how to complete this project with flair!
You can even repurpose a muffin tin into a candle holder using ideas like these from Better Homes and Gardens. It's a great way to incorporate various spices, seeds and dried beans into your decorating, without needing to go buy lots of craft supplies.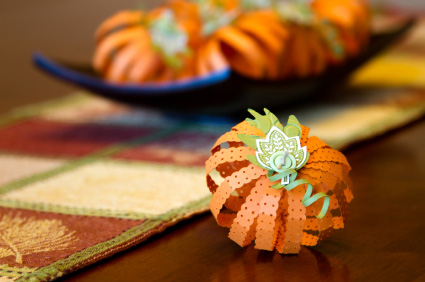 You can even create your own paper pumpkins using a tutorial from Your Home. Go for traditional colors in orange, brown and green, or decorate with your favorite fall color scheme — burgundy and creme, perhaps?
When it comes to decorating for Thanksgiving, you're limited only by your imagination — have fun with it!
More Thanksgiving
Thanksgiving dessert recipes
Elegant Thanksgiving table ideas
Planning Thanksgiving for two