If you're from the South, grits are nothing new to you. In fact, you probably grew up eating them almost every day for breakfast! There are a ton of different ways to enjoy grits: with sausage, cream or shrimp. However, the best (and classic) way to eat them is with a heaping handful of your favorite cheese and some crispy bacon.
Mini cheesy grits recipe
Serves about 6
Recipe inspired by Alton Brown
We paired ours with sharp cheddar, but you can use any kind of cheese you want! The creamy texture of the grits is the perfect complement to the bold flavor of the sharp cheddar and the salty, savory crunch from the bacon! Plus, served up in these cute, mini ramekins makes portion control a breeze!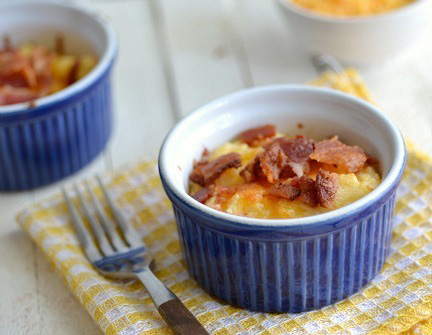 Ingredients:
1 cup milk
1 cup cream
1/2 cup uncooked grits (not instant)
Dash of salt
1/2 cup shredded sharp cheddar cheese
2-1/2 tablespoons butter
1/4 cup Champagne cheddar cheese
4 pieces of bacon, cooked and crumbled
Directions: 
Preheat your oven to 350 degrees F. Grease six mini ramekins with nonstick cooking spray.
In a pot over medium-high heat, bring milk and cream to a boil. Add in 1/2 of the butter mixture and stir in grits. Cook for about 5 minutes.
Remove from heat and add salt and pepper. Mix in the sharp cheddar and 1/2 of the Champagne cheese and the remaining butter.
Transfer to the ramekins. Sprinkle with the Champagne cheese. Bake for 40 - 50 minutes, or until bubbly. Garnish with bacon.
More Southern recipes
Sweet potato pie -- A Southern favorite
Mini chicken and waffle sandwich recipe
Old fashioned Southern banana pudding recipe