For some people, dessert is the best part of any meal. Thanksgiving feasts tend to stuff a person to the point of bursting, but somehow, there always seems to be a little room left for dessert. Here are four decadent and delicious options ranging from the traditional to the uniquely satisfying.
Pumpkin cheesecake
Serves 8-10
Ingredients:
Crust:
3/4 cup graham cracker crumbs
1/2 cup pecans, finely chopped
1/4 cup brown sugar, tightly packed
1/4 cup granulated sugar
1/4 cup (1/2 stick) unsalted butter, melted and cooled
Filling:
1-1/2 cups canned solid-pack pumpkin
3 large eggs
1/2 cup brown sugar, tightly packed
2 tablespoons milk
1 teaspoon vanilla
1 tablespoon bourbon
1/2 cup granulated sugar
1 tablespoon cornstarch
2 teaspoons cinnamon
1/2 teaspoon nutmeg
1/2 teaspoon ginger
1/2 teaspoon salt
3 (8 ounce) packages cream cheese, at room temperature
Topping:
2 cups (16 ounces) sour cream
2 tablespoons granulated sugar
1 tablespoon bourbon
Directions:
To make the crust, first grease a 9-inch springform pan.
Stir together the graham cracker crumbs, chopped pecans, sugars, and butter in a bowl until combined well.
Press this crumb mixture evenly onto the bottom and about 1/2" up the side of the pan.
Chill the crust for 1 hour.
To make the filling, first preheat the oven to 350 degrees F and put a rack in the middle position.
Whisk together the pumpkin, eggs, brown sugar, milk, vanilla and bourbon in a bowl until combined.
In a large bowl, stir together the granulated sugar, cornstarch, cinnamon, nutmeg, ginger and salt.
Add the softened cream cheese to the dry ingredients and beat with an electric mixer at high speed until creamy and smooth, about 3 minutes.
Reduce the speed to medium and add the pumpkin mixture; beat until smooth.
Pour the filling into the chilled crust, smooth the top, and either put the springform pan into a shallow baking pan or place a pan on the lower rack in case the springform leaks.
Bake until the center is just set, 50 to 60 minutes.
Transfer to a rack and cool for 5 minutes, making sure to leave the oven on.
To make the topping, whisk together the sour cream, sugar and bourbon in a bowl, then spread on top of cheesecake and bake 5 additional minutes.
Cool the cheesecake completely in a pan on the rack for about 3 hours.
Cover and chill the beauty until cold, at least 4 hours.
Remove the side of the pan and bring the cake to room temperature before slicing and serving.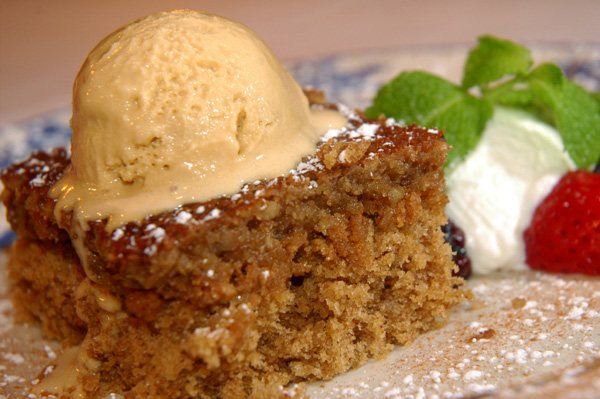 Apple spice cake
Serves 12-14
Ingredients:
Cake:
10 ounces (2-1/2 sticks) unsalted butter, room temperature
2 pounds Granny Smith apples, peeled, cored and grated on the large holes of a box grater (4 cups)
1/2 cup apple cider
2-1/2 cups granulated sugar
3-3/4 cups all-purpose flour
2-1/2 teaspoons baking powder
2-1/2 teaspoons baking soda
1 teaspoon salt
1-1/2 teaspoons ground cinnamon
1/2 teaspoon ground nutmeg
1/4 teaspoon ground ginger
1/4 cup brown sugar, tightly packed
4 large eggs, room temperature
1/2 cup sour cream
1-1/4 cups pecan halves (5 ounces), toasted dark and finely ground in a food processor
Frosting:
1/2 cup butter, room temperature
2 teaspoons cinnamon
2-3 tablespoons milk, room temperature
2-3 cups powdered sugar, sifted
Directions:
Put 1/2 stick butter into a large nonstick skillet. Stir in apples, cider and 1 cup granulated sugar.
Raise heat to medium-high and cook, stirring occasionally, for 8 minutes.
Reduce heat to low and cook until apples are golden and translucent and liquid has evaporated, about 10 minutes. Let cool.
Preheat oven to 350 degrees F. Grease two 9-inch round cake pans.
Whisk together flour, baking powder, baking soda, salt and spices; reserve 1/4 cup flour mixture.
Beat remaining 2 sticks butter, remaining 1-1/2 cups granulated sugar and the brown sugar with a mixer on medium-high speed until pale and fluffy, about 5 minutes.
Reduce speed to medium, and add eggs, 1 at a time, beating well after each addition.
Reduce speed to low. Beat in flour mixture in 2 batches, alternating with the sour cream and scraping bowl as needed.
Add remaining 1/4 cup flour mixture to apple mixture, and toss.
Fold in apple mixture and pecans.
Divide batter between prepared pans. Bake until tops are dark golden brown and a toothpick inserted into centers comes out clean, 55 to 65 minutes.
Let cool for 30 minutes on a wire rack. Run a knife around edges of cakes to loosen. Unmold cakes, and let cool, right side up, on rack.
To make the frosting, beat the butter with an electric mixer for a few minutes.
Add the cinnamon and milk and briefly blend.
Add the powdered sugar gradually until the frosting is thick enough to spread easily. If the frosting is too dry, add additional milk until the desired consistency is reached.
To assemble the cake, place 1 cake on a cake stand. Spread 1 cup buttercream over top.
Place remaining cake on top. Spread remaining buttercream over entire cake. Refrigerate until firm, about 45 minutes. Decorate as desired.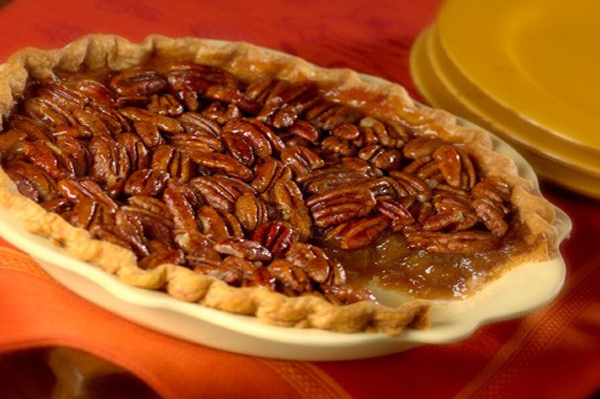 Pecan pie
Serves 8
Ingredients:
1-1/2 cups pecan pieces, toasted
3 large eggs
1 cup granulated sugar
3/4 cup light or dark corn syrup
2 tablespoons melted butter
2 teaspoons vanilla extract
1/2 teaspoon salt
1 (9-inch) deep-dish frozen unbaked pie shell
Directions:
Preheat oven to 350 degrees F.
Stir together eggs and next 5 ingredients.
Pour filling into pie shell.
Sprinkle pecans evenly into filled shell.
Bake for 55 minutes or until set, shielding pie with aluminum foil after 20 minutes to prevent excessive browning. Serve warm or cold.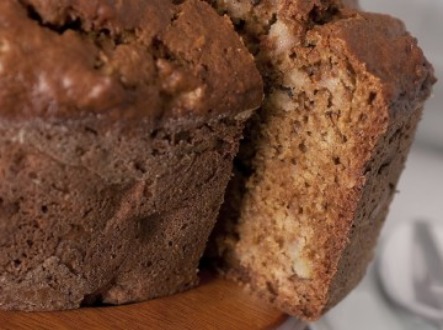 Sweet potato cake with praline pecans
Serves 12-16
Ingredients:
Cake:
1/2 cup butter, melted
1/4 cup vegetable oil
4 eggs
3 ripe bananas
2 cups sweet potatoes, cooked and mashed
1/2 teaspoon salt
2 teaspoons baking soda
2 teaspoons cinnamon
1 teaspoon ginger
3-1/2 cups all-purpose flour
1 cup whole wheat flour
2/3 cup buttermilk
1-1/2 cups granulated sugar
Praline topping:
1/2 cup brown sugar, packed
2 tablespoons butter
1 cup pecans, chopped
2 cups powdered sugar
1/4 cup water
Directions:
Preheat oven to 350 degrees F. Grease up a bundt pan, 2 loaf pans, or whatever dish you desire.
Blend oil, eggs, bananas and sweet potatoes in a large bowl.
Add salt, baking soda, cinnamon, ginger and flours; blend well.
Beat in the milk and sugar.
Pour into pan(s) and bake for 50-75 minutes depending on pan of choice, or until a toothpick inserted in the center comes out clean.
To make the topping, cook butter and brown sugar over medium heat for 4-5 minutes until caramelized.
Add pecans and remove to a bowl and cool slightly.
Measure powdered sugar into a bowl and stir in water; whisk until smooth.
Using a fork, mix glaze into pecans, breaking up praline pieces while stirring.
Spoon over cake and allow to harden and cool.
More Thanksgiving
Thanksgiving Etsy finds
Thanksgiving decorating ideas
Reasons it's okay not to serve a turkey