Who doesn't love the ooey, gooey, extra cheesy spinach and artichoke dip you get at restaurants? With the chunks of artichokes and spinach, it's hard to resist. When you can't make it out to enjoy your favorite dip, bring those flavors you love home and enjoy them in a whole new way! This spinach and artichoke risotto has all the same ingredients as the dip, just slow cooked with Italian rice.
Spinach and artichoke risotto
Serves about 8
Cheese, rice, artichokes and spinach, what more could you want? This risotto is slow cooked on the stove until the rice literally melts in your mouth. After just a few bites of this, you'll find yourself saying "spinach and artichoke dip what?"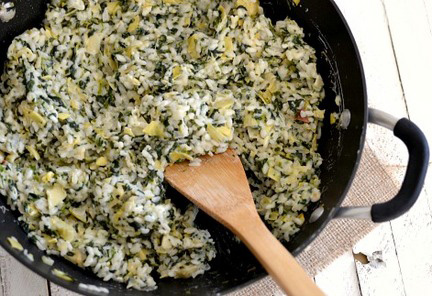 Ingredients:
1-1/2 cups Arborio rice
4 cloves garlic, minced
2-1/2 tablespoons butter
3 small shallots, finely chopped
1/2 cup dry white wine
3 cups low-sodium vegetable broth
1 box of frozen spinach
14 ounces (1 can) of artichoke hearts, drained
1/2 cup Parmesan cheese
4 ounces light cream cheese
Liberal dashes of salt and pepper
Directions: 
Defrost the spinach and set it aside.
Melt the butter in a large pan or wok over medium-high heat. Add the garlic and shallots and cook until fragrant, about 10 minutes.
Add in the rice, salt and pepper. Cook for about 2 minutes. Add in the wine and cook it until it evaporates. Gradually add in the broth, 1/2 cup at a time, allowing the broth to get absorbed into the rice after each addition. Once all the broth has been added, stir in the defrosted spinach and chopped artichoke hearts. Cook another 5 - 10 minutes, or until the rice is soft and creamy.
Remove from the heat and stir in the Parmesan and mozzarella cheese. Add the salt and pepper to taste and enjoy!
More spinach and artichoke recipes
Spinach and artichoke dip pizza
Mini spinach artichoke dip bites recipe
Light spinach and artichoke dip recipe