For many of us 9-5 working folks, the best part of our day is the nice cold drink waiting for us at happy hour. Although a regular beer or glass of wine is nice, why not spice up your happy hour with a more unique libation, like a chilled raspberry beer cocktail or strawberry basil margarita?
These fabulously refreshing libations are extra boozy to help take the edge off and fabulously light and low in sugar. Which really means we totally condone having more than one (or five, we won't judge).
Raspberry beer cocktail
Serves about 4
Are you a beer lover but want something just a teensy bit different? Try this refreshing cocktail, made with fresh and frozen raspberries and vodka for a new, fancier way to enjoy your brew!
Ingredients: 
2 1/2 bottles of light wheat beer
1/2 cup frozen raspberries
6.5 ounces frozen lemonade
1/3 cup Champagne
Ice
Directions: 
Mix the beer, raspberries, lemonade and champagne together in a large pitcher. Add ice and enjoy!
Strawberry pomegranate basil margarita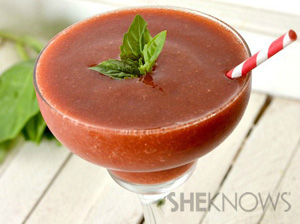 Serves about 2
Who said you can't mix your herbs with your drinks? This strawberry margarita is infused with fresh basil leaves and pomegranate tequila -- giving each sip an insanely delicious depth of flavor.
Ingredients: 
2 cups strawberries, stems removed
1-1/2 packets Sweet 'N Low
1/4 to 1/3 cup pomegranate-infused tequila
5 fresh basil leaves, chopped
1 tablespoon lemon juice
1 cup of ice
Directions: 
Place the strawberries, ice, tequila, basil leaves and Sweet 'N Low in a blender. Blend on low until smooth. Add the additional basil or tequila to taste. Enjoy!
More unique cocktail recipes
4 Unique twists on traditional cocktails
2 Unique brunch cocktail recipes
Funfetti cake batter martini recipe