These days, there seem to be thousands of kitchen gadgets on the market ranging from silly to timesaving, and from cheapo to lux. Make kitchen tasks easier without breaking the bank with the best gadgets under $50.
Some kitchen gadgets just end up taking up extra space you don't have. But there are plenty that can be real game changers in the kitchen. Professional chefs and avid home cooks alike rely on these dependable, reasonably priced workhorses in their kitchens every day.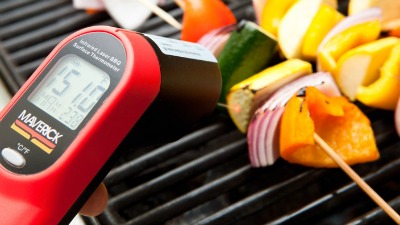 Thermometers
To ensure that your food is cooked perfectly every time, it's essential to invest in a good thermometer. The latest innovation in this department is the laser thermometer, which measures the surface temperature of anything you are cooking using infrared technology. Elise Bauer of Simply Recipes swears by them. "It's especially useful for gauging the temperature of hot oil, if you are frying something that requires the oil get to a certain temp," she says. "Or if you are making a custard and you can't let the mixture get above 180°F." Check out cookbook author Michael Ruhlman's go-to laser thermometer for $43.
Immersion Blender
If you don't have an immersion blender (also called a hand or stick blender), consider getting this compact and worthwhile gadget. Bauer swears by these as well: "You can easily puree soups right in the pot, instead of transferring hot liquid to a blender." Besides soup you can also make purees, smoothies and much more. For an even greater value, check out this $40 compact 3-in-1 version that has detachable parts to make it an immersion blender, electric whisk and mini food processor.
Use your immersion blender for this and other soup recipes >>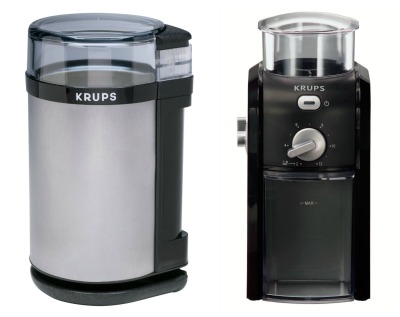 Spice and Coffee Grinder
Did you know that grinding whole spices as needed enhances their flavor and makes them taste fresher? The same goes for nuts and even herbs. So check out this sleek $30 spice and herb grinder that does double duty as a coffee grinder. Serious coffee aficionados, though, should go for a burr grinder, like this model for $50, which evenly grinds coffee beans instead of chopping them.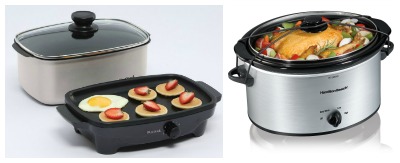 Slow Cooker
Any busy parent knows what a blessing a slow cooker can be. There's nothing like throwing everything in a crockpot in the morning and returning home after a busy day to the aromas of a freshly-cooked meal. The best part is that these lifesavers come in a variety of sizes and price points that don't have to break the bank. This $50 5-quart version comes with an insulated carrying tote so you can easily bring it to a potluck. Or try out this high quality budget slow cooker for only $25.

Scale
A digital scale is a small and versatile kitchen gadget that can easily fit in even the smallest kitchen. Professional bakers rely on them to get exact measurements for all their ingredients, while dieters use them for portion control. TV personality and cookbook author Alton Brown relies on this $35 model for its ease of use and accuracy.
Share with us! If you could have only one gadget in your kitchen, what would it be? Tell us in the comments below!
More kitchen gadgets
Foodie geek gift guide
Thermapen digital thermometer
Looftlighter